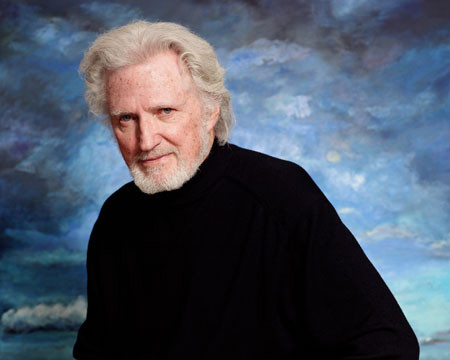 Actor
Portrait © Donna Granata 2009
Robert Brown began his acting career in New York City by studying and work ing with some legendary actors and directors, including the Erwin Piscator's Dramatist Workshop at the New School for Social Research, Rod Steiger and Walter Mathau. His first job on Broadway was in Skipper Next to God, starring John Garfield and directed by Lee Strasberg. Maxwell Anderson hired Robert to play Socrates' son in the The Playwrites Co. production of Barefoot in Athens. Guthrie McClintock saw him in the play and cast him in the coveted starring role opposite Dame Judith Anderson in Come of Age. As a result, many poetic roles were offered to Mr. Brown, including The Corn is Green with Morgan Evens and Ann Harding, and followed by several Shakespearean roles, including Valentine in Two Gentlemen from Verona, Ferdinand in The Tempest with Sam Jaffe, and the Dauphin in King John. Other roles include Teddy Lutin in Somerset Maugham's The Circle with Helen Hayes, the Joseph Papp production of Montjoy Prison, A Member of the Wedding, starring Ethel Waters and The Dark is Light Enough starring Katherine Cornell and directed by Guthrie McClintock.
One of the performances of which he is most proud is his creation of the role of Stephen Daedelus in the critically acclaimed Ulysses in Night Town, adapted from James Joyce's epic novel Ulysses, also starring Zero Mostel, and directed by Burgess Meredith. Mr. Brown later played the Daedelus character in Portrait of an Artist as a Young Man and Stephen Hero directed by Phoebe Brand. Another important role in Robert Brown's career was the much heralded Rolf Hochhuth's The Deputy, in which he played the leading role of the heroic priest Richard Fontana S.J.
After early work in television on such shows as Perry Mason and the Dick Powell Theatre among others, Brown starred in the 1968-70 ABC prime time series Here Come the Brides with Joan Blondell. He also played the title role of Carter Primus, an underwater explorer, on the NBC show Primus. After a season, Brown was back on stage in a production of Lillian Hellman's The Little Foxes with Carroll O'Connor, Lee Grant and Burgess Meredith. He has done many television guest star appearances, including Archie Bunker's Place, Colombo, Star Trek, and Police Story. His films include A Man Alone with Melinda Dillon and Katy Jurado, and Tower of London with Vincent Price.
In later years, Brown has divided his time between doing voiceovers for radio and television as well as writing short stories and a novel. Asked whether he preferred theatre work or television work, Brown commented "That is like asking which child of yours you love the best!"
Robert Brown was married to extensively documented FOTM artist Elisse Pogofsky-Harris, who died in 2018.
Brown's documentation took place in 2009 and was sponsored by Dr. Richard Gould.  The FOTM Archive contains extensive information about this artist.