Meet the Team
Learn more about the staff that keeps this organization humming along.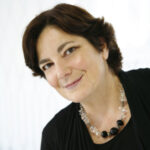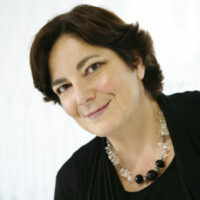 Donna Granata
Founder and Executive Director
In addition to her ongoing lecture series for Focus on the Masters, Donna teaches classes for the Road Scholar Elderhostel International including an Introduction to the J. Paul Getty Museum and Getty Roman Villa. Special lectures trace the careers of photographer LIFE Horace Bristol and painter John Nava, creator of the tapestries commissioned for the Cathedral of our Lady of the Angels in Los Angeles, CA. In addition, she has lectured for the journalism department at UCLA on the ethics of photography. She was named Teacher of the Year in 2005 by Elderhostel International.  Among her most recent awards is the 2012 Lifetime Achievement Award in the Arts from the City of Ojai, CA.
An accomplished artist in her own right, Donna Granata is an internationally published and award winning painter turned photographer.  Her photographs have been displayed across the United States.  Selected works from her FOTM portrait series are housed in the Smithsonian's Archive of American Artists; in the photographic Collection of the George Eastman House, Rochester, New York and other public institutions that house the personal archives of the artists documented.
Donna received a Bachelor's of Art Degree and Honorary Masters of Science Degree from the Brooks Institute of Photography where she was an adjunct professor in the Portrait Department. She received a Master's Degree in Arts Journalism from USC Annenberg School of Communication and Journalism. Granata is listed in Marquis Who's Who of American Women.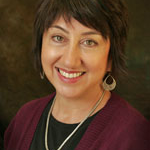 Aimee French
Learning to See Education Director
Aimee French is a lifelong artist whose earliest memories are of being fascinated by shapes, edges and textures. She holds a Bachelor of Fine Arts in painting and drawing from The Ohio State University. Having explored and worked in a wide range of mediums, a painterly quality marks much of her work, even when using the hardest materials. It is process oriented, and symbolism is often used. After many years of painting on silk and with oil, her current mediums are assemblage, felted wool and encaustic.
Aimee joined Focus on the Masters as the Learning to See Outreach Education Director in January 2011. Her extensive arts education experience includes class instruction, program development and management serving populations from all ages, socioeconomic backgrounds and learning levels.
Her experience in museum education, certification as a Social/Emotional Arts Facilitator and 7 years working in humane education has given her a broad insight into the importance of how and what we learn manifests in a student's life. Her goal is to nurture inspiration and trust in one's unique creative voice. See Aimee's latest works at www.facebook.com/TheBouStudio/.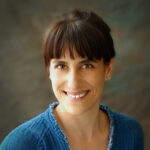 Chelsea Cody
Assistant Executive Director
Referred to us by FOTM documented artist Elyn Zimmerman, Chelsea joined our team in 2022 as a Learning to See program assistant. Chelsea earned her MFA in Studio Fine Art in 2019 from the Art Center College of Design.  With a background in journalism, political theory, and gender studies she carves a circuitous path in pursuit of a more resilient and life-affirming creative existence.
Utilizing writing, photography, collage, sculpture, and performance, her interdisciplinary practice is rooted in the confrontation of the commonplace – questioning the status quo. Drawing on her interests in philosophy, social justice, power dynamics and identity, she is continuously asking why, to what end, and most importantly, what else could be?  The latter being the most important question for FOTM. She is the ideal candidate to bring FOTM's next chapter to fruition. See her work and read more about her at ccody.work.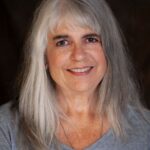 Christine Beirne
Webmaster
Chris is a long term volunteer and former employee of Focus on the Masters. She was the marketing director for a horticultural firm and then, once she earned her B.A. in Studio Art, she became the marketing director for Buenaventura Art Association. After a few years, she was offered the position of Executive Director and utilized her management, artistic and computer skills to grow fundraising and membership. She is currently an Ojai Studio Artist and is President of the board. When Chris isn't working on the computer, she's painting. You can view her work at www.ChristineBeirne.com.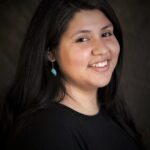 Jessica Diaz
Learning to See Artist Faculty
Jessica Diaz is an artist currently attending California State University of Channel Islands majoring in art with an emphasis in animation. Narratives and story are her favorite aids to the arts, which are reflected in the of personality and character story of her work. She also works with the Santa Paula Art Museum as the current Assistant Art Educator. Growing up in Santa Paula, she acquired influence from the life of agriculture and a California setting. Her introduction into arts education came alongside her interest in museum culture, wanting to know the process of the artist's work and their exhibitions in museums. She has taught in classrooms through Artist In Residency programs with elementary students, led school tours ranging from k-12 grades, and taught children's art classes through the Cole Creativity Center.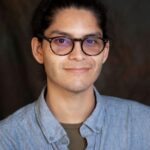 Gabriel Islas
Learning To See Artist Faculty
Gabriel Islas grew up in the coastal city of Oxnard, California. He obtained his Bachelor of Fine Arts with an emphasis in painting from Academy of Art University, San Francisco. After graduating, he moved back to his roots in Ventura County where he teaches oil painting courses for adults, teen art programs and workshops for kids through VITA Art Center, The Santa Paula Art Museum and the Oxnard Performing Arts Center. Gabriel is a member of the California Art Club and has exhibited at the Santa Paula Art Museum's '12th Annual Art About Agriculture', the CAC virtual exhibit 'Welcome toCalifornia', and a dual-solo show at the Conejo Valley Art Museum. His current work expresses the drama of the Southern Californian atmosphere across the local landscape. Gabriel joined the Learning To See team in 2021. Visit his webpage at gabrielislasart.com.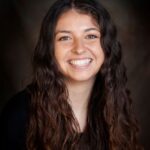 Jamie (Jem) Morris
Learning To See Artist Faculty
Born and raised in Artesia, California, Jem Morris moved to San Francisco to study at the Academy of Art University. She obtained a Bachelor of Fine Arts with an emphasis in oil painting.  Throughout her collegiate career, Jem developed a fixation on the art of expression, particularly through traditional illustration, imaginative realism, and abstraction. She won 1st place at the Academy of Art University's Spring show in the Undergraduate Abstraction category. In November 2019, Jem moved back to Southern California to pursue a full time career in art, eventually moving to Ventura to teach at various locations including Vita Art Center, Cole Creativity Center, and the Oxnard Performing Art Center.  Visit Jem at instagram.com/jemfinearts.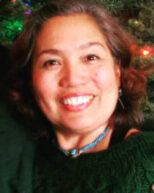 Elizabeth Souza
Learning To See Artist Faculty
Elizabeth Souza life's path has given her the opportunity to work in many artistic genres. She is a painter, fiber artist, craft teacher, published writer, and dancer. Her work is influenced by her diverse cultural background as an immigrant from the Netherlands of mixed ancestory. She holds a BA in Art with an emphasis in painting from California State University Channel Islands, and is currently pursuing a graduate degree from California State University Northridge.  Visit her webpage at www.elizartist.com.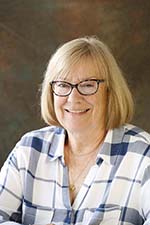 Fran Stewart
Volunteer Office Staff: Archive Administration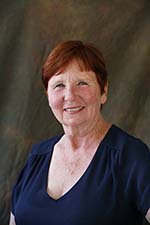 Gale Willhite
Volunteer Office Staff: Archive Administration
Your donations support the programs that are at the heart of the FOTM's mission…
 to document and archive extraordinary artists and their work through photographic portraits, audio and video interviews and biographical research that encompass each artist's experiences, artistic reflections and development; and to present this work to a broad public through extensive education outreach to all ages – including at-risk youth through our Learning to See Youth Outreach program, Art & The Creative Spirit Enrichment Program for Seniors, a public monthly Artist Spotlight Series, exhibitions, publications, website and an extensive resource library.
THANK YOU TO OUR SPONSORS