 Programing is Free & Open to the Public

Special Exhibition Walkthrough

Thursday, October 26, 2023 12PM-2PM
FOTM Founder and History Is Now Portrait Photographer Donna Granata will lead a walkthrough of the collection on display at the Bank of America Performing Arts Center. This is a unique opportunity to learn about Ventura County artists and the process of document creative history. 

History Is Now 2023 is an exhibition that seeks to capture the essence and spirit of Ventura County and Southern California's vibrant artistic community. Through the medium of the photographic portrait, we embark on a visual journey showcasing the remarkable talents and personalities of local artists. This exhibition presents a collection of artists, meticulously curated from the Focus on the Masters Arts Archive & Library. Over the past three decades, Donna Granata (photographer and FOTM Founder) has dedicated her craft and passion to capturing the stories of artists and preserving their legacies for future generations.
As we celebrate the 150th Anniversary of the County of Ventura, this exhibition stands as a testament to the enduring creativity and cultural richness of our region. It serves as a reminder that art has the power to transcend time, space, and circumstance, serving as a unifying force that connects us all. From abstract painters to sculptors, from performance artists to photographers, this collection showcases the immense diversity and depth of our region's creative minds. But beyond the portrayal of individual artists, these portraits offer something much more profound. They illuminate the symbiotic relationship between artists and the community they call home.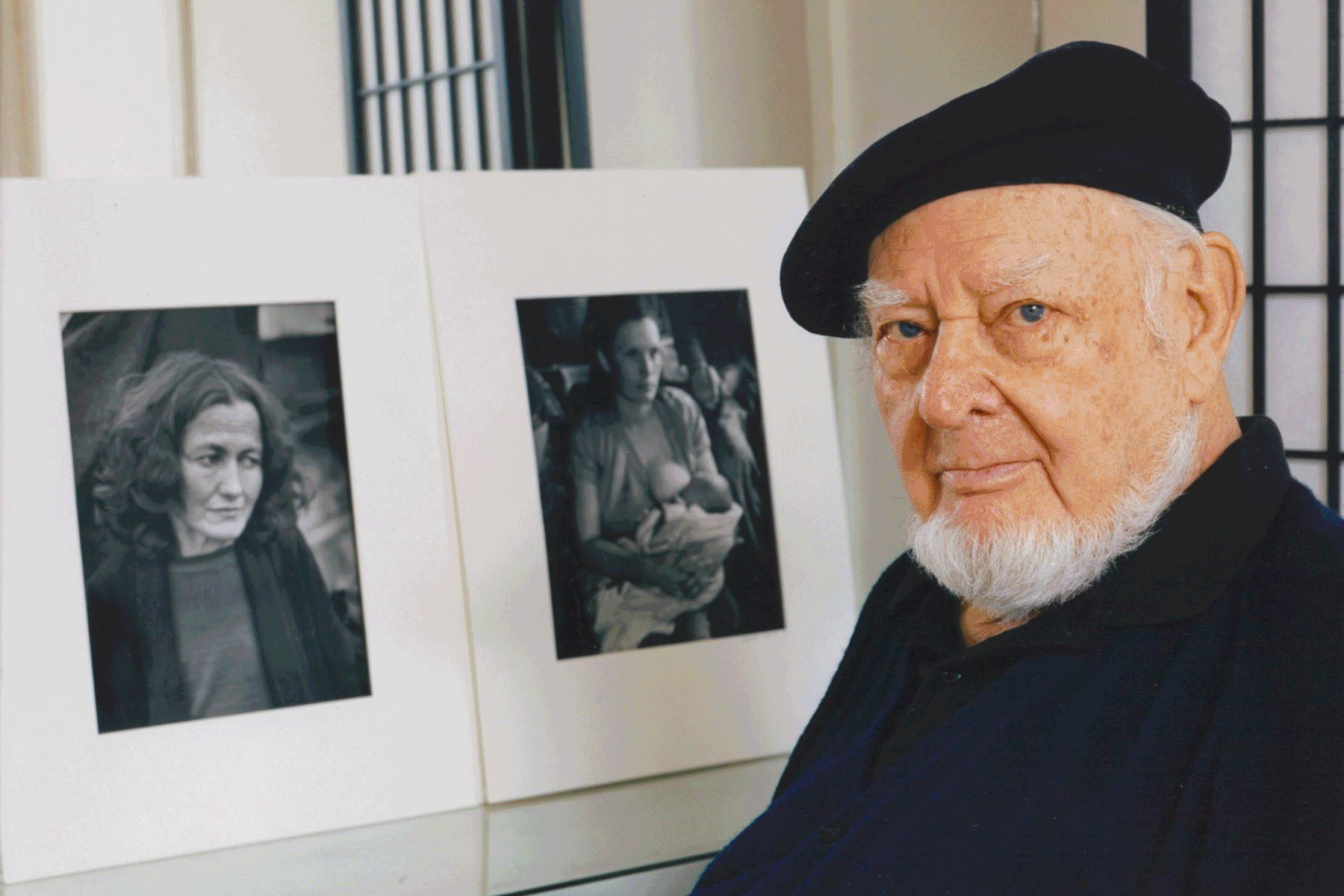 Guided tours of the exhibition are available by appointment, with priority given to youth groups. To book a tour, please submit your preferred date and time via email.
Exhibition Programs & Events
Click on each item to expand and learn more.
September 17, 2023 | Directors Talk & Thousand Oaks Exhibit Opening Reception
All events listed here are free and open to the public. Please RSVP if you plan to attend. Thank you!

2:00PM – 3:00PM | Focus on the Future Directors Talk – RSVP HERE
Verizon Founders Room, Kavli Theatre (2nd Floor)
Bank of America Performing Arts Center
The current and future directors of Focus on the Masters Arts Archive & Library candidly discuss the history of the organization, the development of the History Is Now exhibition, and their plans for the future.
3:00PM – 5:00PM | Exhibition Opening – RSVP HERE
Fred Kavli Theatre Lobby Gallery (Multiple Floors)
Bank of America Performing Arts Center
This second and final installation of the History is Now exhibition includes portraits not previously shown in Ventura. From the cutting-edge work of renowned artist Gary Lang to the environmentally-conscious realist painter Connie Jenkins, these images reflect the depth and breadth of Ventura County's arts community. Each was created after exhaustive documentation and study of the artists and their work as part of the FOTM archive and library. Come, see the portraits, learn about the artists, and experience how we teach about the artists in local schools through our Learning to See programs.
August 17, 2023 | Panel Discussion: Art, Archives & History
THIS EVENT HAS PASSED.
This event is free and open  to the public. We ask that everyone RSVP as space is limited.
Join us as we discuss the role of art archives and how documentation and preservation relate to art history and critical scholarship.
Panelists include:
Moderators: Chelsea Cody & Donna Granata
The following articles are provided for background information and contextual content only:
Resources for Artists to Organize and Document their Artwork
Artists who have documented and organized their artwork and related materials are in the best position to have their work archived. Digitizing artwork and materials will permit you, or your heirs, to explore and participate in new digital archive opportunities more easily.
Bibliography:
Career Documentation for the Visual Artist Joan Mitchell Foundation 2022
Estate Planning for Visual Artists Joan Mitchell Foundation & Arts & Business Council of Greater Boston 2015
Related Recommended Reading
Visual Artist's Guide to Estate Planning published by a Committee on Art Law​
The Artist' Estate: a Handbook for artists, executors, and heirs by Loretta Wurtenberger​
Artists' Estates: Reputations in Trust by Salvesen and Cousineau
August 3, 2023 | Focus on the Masters Directors Talk
THIS EVENT HAS PASSED.
Thank you for joining us!
Focus on the Future Directors Talk: The current and future directors of Focus on the Masters Arts Archive & Library candidly discuss the history of the organization, the development of the History Is Now exhibition, and their plans for the future.
Donna Granata, FOTM Founder & Current Executive Director
An accomplished artist in her own right, Donna Granata is an internationally published and award winning painter turned photographer.  Her photographs have been displayed across the United States.  Selected works from her FOTM portrait series are housed in the Smithsonian's Archive of American Artists; in the photographic Collection of the George Eastman House, Rochester, New York and other public institutions that house the personal archives of the artists documented.
Donna received a Bachelor's of Art Degree and Honorary Masters of Science Degree from the Brooks Institute of Photography where she was an adjunct professor in the Portrait Department. She received a Master's Degree in Arts Journalism from USC Annenberg School of Communication and Journalism, graduating with honor. Granata is listed in Marquis Who's Who of American Women. In 2012 she received the Lifetime Achievement Award in the Arts from the City of Ojai, CA.
Chelsea Cody, Artist & Future FOTM Executive Director
Referred to FOTM by documented artist Elyn Zimmerman, for whom Chelsea worked as a studio assistant, she began her work at Focus in 2022 as a Learning to See program assistant. Chelsea earned her MFA in Studio Art in 2019 from the Art Center College of Design.  With a background in journalism, political theory, and gender studies she carves a circuitous path in pursuit of a more resilient and life-affirming creative existence.
Utilizing writing, photography, collage, sculpture, and performance, her interdisciplinary practice is rooted in the confrontation of the commonplace – questioning the status quo. Drawing on her interests in philosophy, social justice, power dynamics and identity, she is continuously asking why, to what end, and most importantly, what else could be?  The latter being the most important question for FOTM. She is the ideal candidate to bring FOTM's next chapter to fruition. See her work and read more about her at ccody.work.
TALKING POINTS:
How Focus on the Masters was born…or what happens when your house is full to bursting with art and historical information.
What we are really talking about when we emphasize the importance of the arts to a healthy society.
How exactly does a non-profit art appreciation and education program endure for 30 years?
What has been the greatest achievement? The most significant struggle or sacrifice?
How the pandemic altered our trajectory and what we face in the wake of this experience.
What does succession mean and who is taking the helm?
Why intergenerational cooperation is vital to navigating change.
Is the nonprofit volunteer an endangered species?
Preserving nuance and encouraging depth in an environment of snippets and scrolling.
The generosity of attention and how we build meaningful networks of support.
History Is Now, 2023 Commemorative Exhibition Catalogs
These beautiful catalogs are available for a suggested $20 donation. This limited edition printing features artist portraits, samples of artwork, and projects from the Learning to See outreach program. Order a copy and immerse yourself in 70 pages (and over thirty years) of artist stories, artwork, and history.
History Is Now Catalog Order Form
Sponsorship Opportunities Are Available
FOTM is still accepting sponsorships for the installation of History Is Now at the Thousand Oaks Performing Arts Center beginning in September 2023. 
Please send your commitment to:
Focus on the Masters Arts Archive & Library
505 Poli Street, Suite 310
Ventura, CA 93001
Or submit your sponsorship via email, here.
Sponsor Levels
$7,500 Premiere Sponsor
$5,000 Benefactor Sponsor
$2,500

Supporting Sponsor
$1,000

Patron
$500

Donor
$250

Friend
Thanks to our current sponsors for making this exhibition and programming possible!
Benefactors
James & Mary Galbraith
Tolo Trust Fund
Patrons
Martin & Virginia Furmanski
Jo Kirk in honor of Norman Kirk
Meister Family Foundation
Michael Rohde
Rock N Block Masonry
Donors
Kevin & Christine Beirne
Richard & Yvette Franklin
Janet Neuwalder & Larry Abele
Hiroko Yoshimoto
Friends
Dawn Arrowsmith

in hon. of Roland Reiss

Shed & June Behar

Gabriel Chacon

Freddie Contarino

Beverly Decker

Jim & Meg Easton

Linda & Paul Ekstrom

Dane Goodman & Marie Schoeff

Susan R. & Dan Kaufman

Maggie Kildee

Daniel Long & Karen Flock

Jacquie Lovell

Paul & Leslie McQuaide

Michael & Loretta Merewether

Dennis Mitchell & Richard Sanders

John & Jessica Nava

Peggy Pownall

Teal Rowe

Tony & Ann Thacher

Elana Kundel