Christopher Trumbo
(1940 – 2011)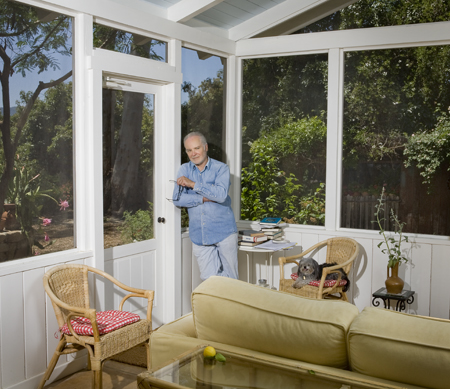 Writer
Portrait © Donna Granata 2008
Christopher Trumbo was a writer whose film credits are impressive. They involved his working with some of the most iconic figures of a particularly complex era of Hollywood history. The lessons gleaned from Trumbo's life and work reach far beyond just our community and into dark chapters of American history. As the son of blacklisted writer Dalton Trumbo, he was a recognized authority on the 1950s Blacklist Era. He was frequently interviewed and appeared in several documentaries on the subject.
Anyone involved with FOTM understands it takes a lot of courage to be an artist. Many of our artists open their lives up to us through abstract media. Trumbo opened up his own life to us without abstraction; he opened himself up directly for the entire world to see. There have been many stories written about the Blacklist and the McCarthy Era, but few directly and intimately illustrate those families' plights from the inside. Those stories are the tales of the very few families who stayed together while weathering the 13 year political hurricane. From 1947 to 1960, during the most formative years of Trumbo's life, the Trumbo family endured extraordinary hardships.
Prompted by his wife Nancy Escher, in the late 1990s Trumbo came up with an idea to help raise money for a University of Southern California effort called The First Amendment/Blacklist Project, a public artwork commissioned to commemorate the 50th anniversary of the Blacklist. American artist Jenny Holzer was selected after a 10 year selection process. Holzer's installation commemorated the Hollywood 10 (among the 10 was Christopher's father, Dalton).
The fundraiser inspired Trumbo to bring to light details that many in Hollywood, and throughout the United States, would have preferred be left in the shadows. He assembled letters that were already published in a book, Additional Dialogue; The Letters of Dalton Trumbo 1942-1962 and built the foundation of the play from the actual experiences and events in the letters. From serving 10 months in jail for contempt of Congress, to dealing with creditors, to trying to be paid under an assumed name, descriptions from his father's letters are masterfully blended with touches of humor underscored by heartbreaking narratives tied together with fortitude.
The first of many celebrities to play Dalton Trumbo was Steve Martin, a family friend. The Los Angeles debut of these readings was a huge success and inspired Trumbo to refine the play. The result of these efforts was Trumbo: Red, White and Blacklisted which opened in New York in 2003 to rave reviews. The play toured nationally and in 2008 was adapted into a documentary feature film simply titled Trumbo.
In the film, the part of Dalton Trumbo was variously played by a list of Hollywood royalty. The film succeeded in not only paying homage to Dalton Trumbo, one of the great screenwriters of the 20th Century, but also to the Trumbo family and every family who had been directly affected by the Blacklist. Trumbo's efforts, including this film, helped make an otherwise incomprehensible period in American history accessible to the average person. His work reminds us that history is a great teacher whose lessons must not be forgotten.
Over time, many actors jumped at the opportunity to bring Trumbo's play to life. They included Nathan Lane, Richard Dreyfuss, Brian Dennehy, Gore Vidal, Bill Irwin, F. Murray Abraham, Eddie Izzard, Robert Loggia, Christopher Lloyd, Michael Richards, Charles Durning, Paul Newman, Peter Strauss, Joe Mantegna, and Studs Terkel. The cast for the documentary film Trumbo alone includes Donald Sutherland, Michael Douglas, Nathan Lane, Joan Allen, Liam Neeson, Paul Giamatti, Brian Dennehy and David Strathairn, among others.
Christopher Trumbo was a generous, loving man who had a dry wit and an extraordinary command of the English language. His decision to become a writer was a bow to the inevitable and an embrace of the familiar. He lived a life of integrity and bravery. At the time of his death, Trumbo was writing a memoir and history of the Hollywood blacklist.
Christopher Trumbo's documentation took place in 2005 and was sponsored by Sandra and Jordan Laby.  The FOTM Archive contains extensive information about this artist.