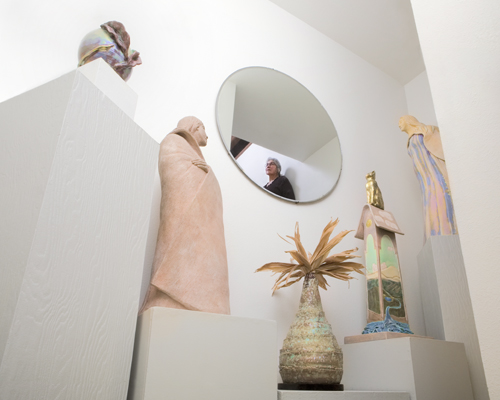 Ceramist
Portrait © Donna Granata 2012
Myra Toth is a bit of an alchemist, at home with hundreds of jars filled with chemicals that transform clay into objects of stunning beauty.  These playful, imaginative pieces, some aglow with lustrous glazes, remind us of the essence of an ocean scene, or allow us to eavesdrop on the conversation of two women.  To say that Toth draws her inspirations from nature somewhat misses the point.  She is able, in a most intimate way, to connect twigs, branches, ears of corn or a bird's nest with clay, taking us with her on a spiritual journey.  Conical figures, made of clay strips, suggest protection, warmth or isolation.
Toth reminds us that the art of ceramics, whether functional or decorative, is a reflection of how the artist feels.  Her work has the ability to transfer that feeling to the viewer, to catch us unaware, to help us find our way in the natural and spiritual realms she explores.
Myra Toth's documentation took place in 2007 and was sponsored by Howard Buroughs.  The FOTM Archive contains extensive information about this artist.