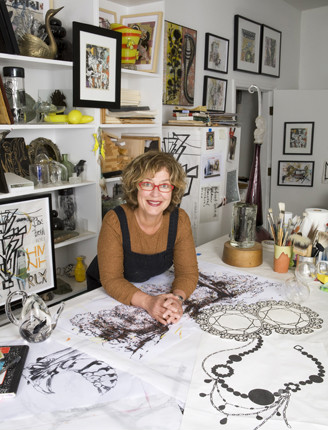 Glass/Mixed Media
Portrait © Donna Granata 2008
For Susan Stinsmuehlen-Amend, inspiration comes from many sources, both mundane and elegant. Her unconscious doodles find their way from her desk calendar to sheets of glass and are combined with imagery that comes from nature or perhaps the bathroom medicine cabinet. Stinsmuehlen-Amend is an artist whose "canvas" is often glass. A long-time collector of her work states: "She does things from the heart, things she thinks are important but not necessarily in vogue at the time. Her work is very individual and not at all derivative." Energy and a keen intelligence infuse her work and reveal a mind that is always inquisitive, always questioning, combining common objects in uncommon ways that can bring a smile of recognition or a question.
In 2001 Stinsmuehlen-Amend was a Hauberg Fellow at The Pilchuck Glass School. She has served as Artist in Residence both at Pilchuck and The Tacoma Museum of Glass and is much in demand as a guest artist/lecturer
Susan Stinsmuehlen-Amend's documentation took place in 2006 and was sponsored by Ojai Studio Artists. The FOTM Archive contains extensive information about this artist.