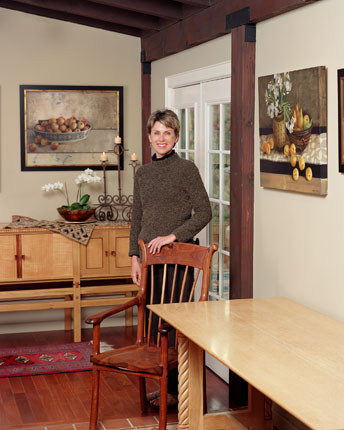 Painter
Portrait © Donna Granata 2004
Award-winning Ojai artist Sherry Loehr is best known for her still-life compositions inspired by nature done in a unique aesthetic style she calls "Contemporary Realism." The painter unexpectedly combines subjects rendered with colorful Old Masters classic realism, and imaginative backgrounds that display a modern sensibility for abstraction, calligraphy and collage. The abstract elements act as a foil for the perfection of the real world; and the contrast gives the subject emotional energy and thrusts the painting into a balance between reality and imagination.
After earning a BFA in English and Art from University of Colorado and MA in Art Education from Columbia University, Sherry spent 12 years designing and producing a line of whimsical ceramic tableware. She shifted focus in 1990 to watermedia paintings – she underpaints with watercolor and finishes the painting with glazes of transparent acrylic colors – for which she has gained considerable recognition. Loehr has found a new way to make the still-life dramatically engaging and endlessly captivating as she explores its almost limitless range of exciting shapes, colors and patterns.  Her work often features birds and plant life abundant near her home in Ojai.
The artist is a signature member of the National Watercolor Society, Ojai Studio Artists, Santa Barbara Art Association, and one of the first signature members of the California Gold Coast Watercolor Society. Her prints are distributed through Art in Motion, founded in Vancouver, Canada, to over sixty countries. She has had solo exhibits with the Carnegie Museum in Oxnard, Buenaventura Gallery in Ventura and Nomad Gallery in Ojai. With numerous awards, she has been a finalist in The Artist's Magazine national arts competitions, with top prizes at the Santa Paula Art Exhibit and Carnegie Museum "Classic Competition." Loehr is represented in the municipal collection of the City of San Buenaventura.
Sherry Loehr documentation took place in 2003. The FOTM Archive contains extensive information about this artist.