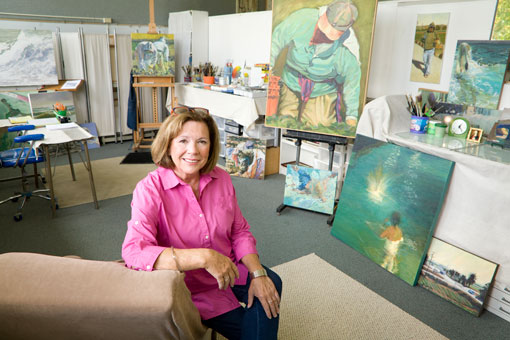 Painter
Portrait © Donna Granata 2012
Roxie Ray's paintings capture field workers laboring in rising heat, bathers languidly floating. The paintings are at once realistic depictions of everyday life and socio-political statements. The viewer is caught in ambiguous situations, observing faceless yet very human figures, anonymous, marginalized. At Oxnard College James Jarvaise spent time with Roxie, critiqued her art and insisted on a classical foundation. A transfer to Ventura College to study with Richard Phelps moved her from oils to acrylics, a medium more suited to her "expressionistic" style. Ray noted that, for her, painting — like life — was not always an easy process and could be painful. She typically would begin with an idea, move into motion with a philosophical undercurrent, then reach into color and contrast, achieving atmosphere in her work. In her words: "My paintings use different elements of my/our world to communicate the invisibility of the human condition and my attempt to bring what is unseen into line of site. Submerged Woman is all about being invisible as a woman – either due to age, politics and/or social standing."
Roxie Ray was born and raised in Corona del Mar, California.  She moved to Ventura County in 1983 and began to study art around 1990.  At Oxnard College James Jarvaise spent time with Roxie, critiqued her art and insisted on a classical foundation. A transfer to Ventura College to study with Hiroko Yoshimoto and Richard Phelps moved her from oils to acrylics, a medium more suited to her "expressionistic" style.
Ray was a proud founding member of Studio Channel Islands Art Center located in Camarillo, CA.
Roxie Ray was also a notable philanthropist, generously participating in fund raisers for California State University Channel Islands, Studio Channel Islands, and Focus on the Masters.  She was a dedicated member of the FOTM Board of Directors.  Her generous spirit was evident in her art and in her life.
Ray's in-depth Oral History and Documentation was in 2010. Sponsored by Jo Ellen & Steve Lee. The FOTM Archive contains extensive information about this artist.