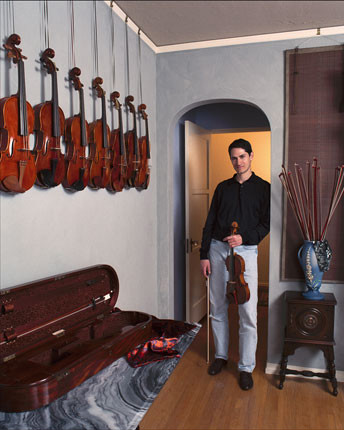 Violinist/Conductor
Portrait © Donna Granata 2003
Mehta began violin studies at the age of six. Attending Indiana University as a student of the famed Josef Gingold, he was named a vice-presidential scholar, awarded a Performance Certificate, and received the Distinguished University Award. Mehta continued his violin studies at The Juilliard School with Szymon Goldberg and in the masterclasses of Nathan Milstein. At Juilliard, Mehta became interested in conducting, and became a student of Otto Werner Mueller, continuing his studies after graduation with Charles Bruck.
Violin positions Metha held include Concertmaster of the New World Symphony and Assistant Principal Second Violin of the San Diego Symphony where he has appeared as Concertmaster and Soloists, and Principal Second Violin of the San Diego Chamber Orchestra.
Mehta was an Outreach Conductor with the San Diego Symphony and Assistant conductor with the San Diego Chamber Orchestra. In 1997, he was chosen as San Diego's "Voice of the Symphony Audience" (VOSA) Music Director for a unique series of concerts in collaboration with the Old Globe Theater and the California Ballet. VOSA's production of A Soldier's Tale, designed and directed by Mehta, received critical acclaim and standing ovations.
Appointed Music Director in 2001, Mehta led the Marquette Symphony to a new era of artistic excellence coupled with community involvement. Under his leadership, the orchestra expanded the variety of its programming, audiences increased dramatically, and the orchestra's season expanded. Through his innovative "What's in a Note?" series, Mehta has brought hundreds of new patrons to the concert hall. Appointed Music Director of the Nova Vista Symphony in 2001 after a national search and a season of finalists, Mehta is the fifth conductor to hold this position in the orchestra's 40-year history. Mehta has held the position of Director of Educational Outreach for the San Diego Chamber Orchestra since 1999, in which capacity he designs programs that bring classical music to children. Characterized by audience participation and one-on-one interaction, Mehta's programs reach over 2,500 children annually.
Other conducting affiliations have included the Knoxville Symphony, and the San Diego Chamber Orchestra. As guest conductor, Mehta has appeared with many orchestras in this country and abroad. He also performs regularly as violin soloist, expanding the repertoire of concerti conducted from the violin.
Nuvi Mehta's documentation took place in 2004 and was sponsored by Dick & Betsy Chess.  The FOTM Archive contains extensive information about this artist.