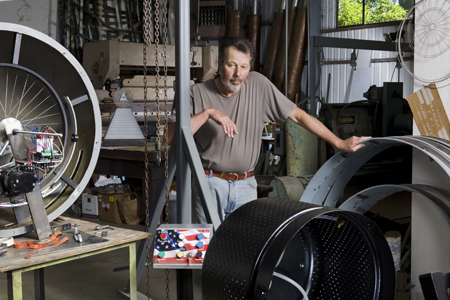 Sculptor, Art Fabricator
Portrait © Donna Granata 2008
Jeff Sanders was born in San Francisco. He earned a bachelor's degree in Industrial Design and a master's in Sculpture from California State University at San Jose. After briefly working as a college art instructor in the early 1970s, Sanders became a full-time artist, art-fabricator and art project manager. He has worked at the well-known Gemini G.E.L Studios in Los Angeles where he collaborated with such luminaries as Ed Kienholz, Claes Oldenburg, Roy Lichtenstein and Robert Rauschenberg. In addition, Sanders has collaborated on projects with well-known artists with ties to Ventura County such as Sally Weber, Jud Fine, and John Nava.
Bronze or steel are the preferred media for most of the artist's outdoor sculptures, which are held in both private and public collections. His subjects involve the everyday images of America. From small to monumental, Sanders' pieces are executed with sensitivity, precision and frequent expressions of tongue in cheek humor. He works adeptly with aluminum, poly resins, patinas, and numerous other components in the custom studio he built. His zest for life is reflected in his art. Sanders and his wife, artist Audrey Sanders, reside in Ojai.
Some of the artist's recent work includes large tapestries that fellow artist and neighbor John Nava has called the "first 3-D tapestries."  "Full Moon" is a tapestry based on a photograph of the moon taken from the Lick Observatory in 1938. The centuries-old art form of tapestries is definitely 21st century in its execution.  It was created by an algorithm that runs the loom in Belgium while Sanders directs the operation from his California studio. The completed tapestry is then stretched on a round fiberglass form that creates a marvelous 3-D effect.  Additional tapestries take the planets as their subject.
Jeff Sanders' documentation took place in 2005 and was sponsored by Dr. Anthony T., Barbara Hirsch and Dr. Richard Gould. The FOTM Archive contains extensive information about this artist.