Art Transforms Lives
The power of arts education, artist interviews and artist documentation allow Focus on the Masters to inspire our community with hope and connection – even with the pandemic. Your continued support allows us to adapt to the challenges we all face.
• Learning to See (LTS) Outreach:
Education Director Aimee French has modified LTS lessons for distanced learning via Zoom with consideration to access to supplies, technology, adult guidance and shorter attention spans. Our volunteers packaged up art supply packets (socially distanced, of course!) that were distributed to students for use in our Zoom classes and with our online lessons. LTS serves students k-8 and underserved populations – over 250,000 students to date!
• Artist Spotlight:
The popular Artist Spotlight interview series will start back up in February 2021 on a regular schedule, so look for more info soon!  The Artist Spotlight is the culmination of in-depth documentation, consisting of recorded oral histories, written biographies, slide/visual library, video recordings, ephemera and photographs that become the artist's archive – 260 artists documented to date! 
• AfterGlow:
One of our favorite activities for the community has been the AfterGlows. Fortunate attendees would talk with the artist one-on-one, enjoy light supper from our hosts and more. We will find new ways to continue the AfterGlow tradition for 2021.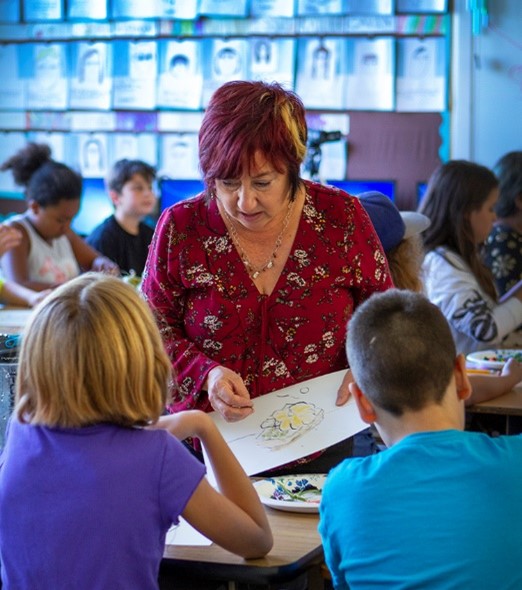 Host Donna Granata and documented artist Linda Ekstrom at FOTM's monthly Artist Spotlight interview at the Museum of Ventura County, November 17, 2019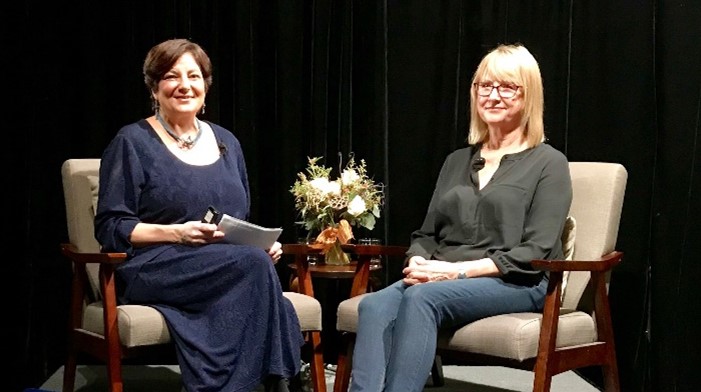 Host Donna Granata and documented artist Linda Ekstrom at FOTM's monthly Artist Spotlight interview at the Museum of Ventura County, November 17, 2019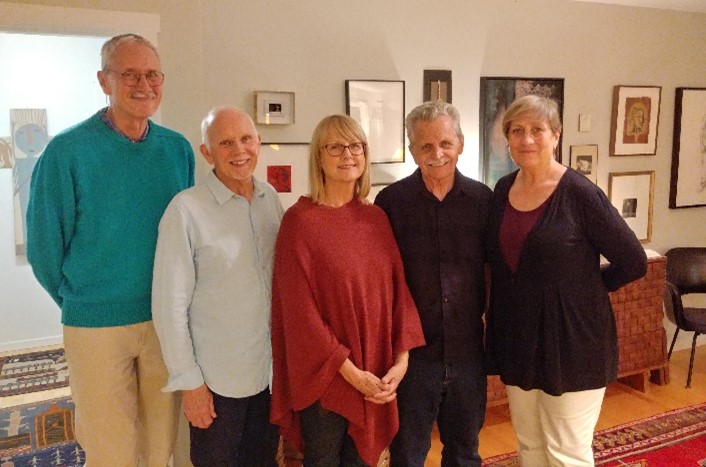 Artist Spotlight Sponsor Michael Rohde, Afterglow Co-host Dane Goodman, featured artist Linda Ekstrom, Paul Ekstrom and Afterglow Co-host Marie Schoeff, November 17, 2019
• FOTM's Arts Archive & Library:
Documentation, oral histories and recorded artist interviews will continue through Zoom and email.  Our archive contains more than 2,600 local artists, galleries and other art-related entities, and is utilized by museums, curators, scholars, media, publications, exhibitions, books and catalogs. The artist portraits and accompanying biographical statements are exhibited regularly. ALL FOTM's PROGRAMS originate from the archives.
Your generosity provides much-needed funds to expand quality arts enrichment to our community. Below are some of our giving opportunities.
• Give an individual contribution

• Become a member or Sustaining Partner

• Share our programming with a friend

• Sponsor an Artist Spotlight

• Support a Learning To See Residency

• Help grow our Endowment

• Follow us on social media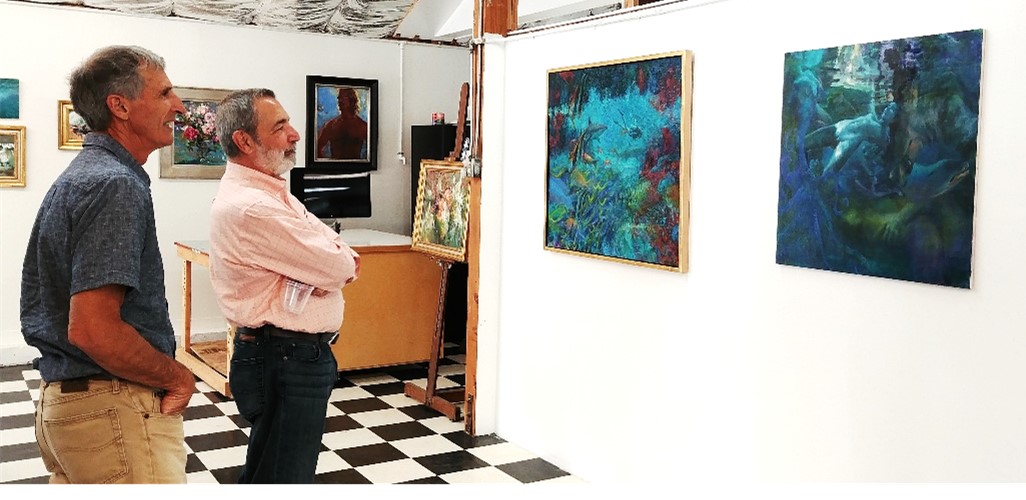 Where Art Begins – John Brant and Sal Santangelo enjoy the work of David Gallup and Nansi Bielanski during a studio visit and open house to benefit FOTM's educational programing July 23, 2017
I miss the camaraderie of our gatherings.
It will make the joy of seeing you all the sweeter when we are finally past this chapter of our shared history. In the meantime, I will see you online!
On behalf of all of us at FOTM, we thank you in advance for your generosity. Our wish for you and yours is that you have a wonderful holiday season and that 2021 brings good health, joy and peace.
With gratitude,
Donna Granata
Founder/Executive Director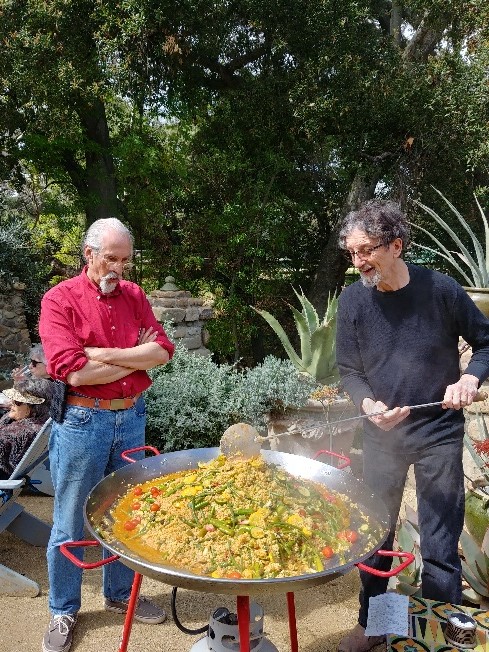 Carlos Grasso and Richard Keit at the
Taste of the Masters Paella Feast
 hosted by Richard Keit and Mary Kennedy of RTK Studios, March 8, 2020