Saturday, September 10, 2016 from 5:30 to 7:00 p.m.
AfterGLOW Fundraising Event: Join us for a celebratory supper immediately following the interview at the Ventura home of Jim & Mary Galbraith. We expect the AfterGLOW to sell out so reserve your seat early! Maps will be given to paid guests at the interview.
Ongoing Sponsors
Dennis Mitchell at I Capelli Salon, Passion Flowers,
Pulse One, Lovina Designs, Peterson Graphics, Ventura College
PLEASE NOTE:
NEW LOCATION, DAY & TIME!
Ventura College: Applied Science Center
(South east section of the campus near Telegraph & Day Road.)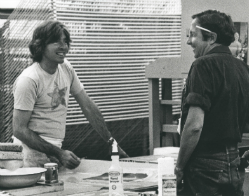 It's a pleasure to welcome back to the Artist Spotlight James L. Webb who was extensively documented by Focus on the Masters in 2009. Jim, for over 10 years, was a master printer for Gemini G.E.L., the ground-breaking and highly respected publisher of fine art that is now celebrating its 50th anniversary. It's impossible to underestimate the role Gemini has played in the art world. Recognizing the impact of this venerable institution, LACMA will present The Serial Impulse at Gemini G.E.L., opening September 11 and continuing through January 2, 2017.
[NOTE: If you're interested in the LACMA private docent-led tour Oct. 13, click HERE]
For an artist like Jim, who admits that he "feel(s) a kinship with paper," the opportunity to work with giants of the art world such as Jasper Johns and Robert Rauschenberg was a career highlight. Jim's insights into the world of printmaking, his personal recollections of dealings with the artists who became life-long friends, are sure to do more than entertain us; we will come away prepared to savor the riches awaiting us in the LACMA exhibit. Please reserve your seat today.