Orazio Fumagalli
(1921 – 2004)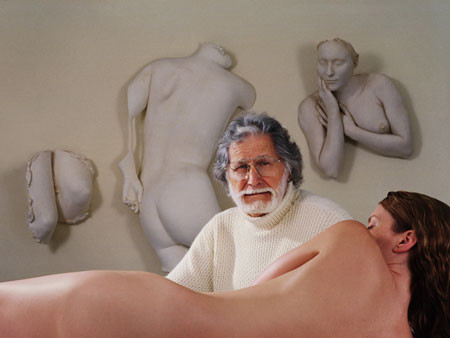 Sculptor
Portrait © Donna Granata 2003
A renowned sculptor and teacher, Orazio Fumagalli was known for his "figure fragment" sculptures of the human form that evoked fragments from ancient ruins. Fumagalli also worked in computer-generated art – the possibilities of which he discovered in the late 60s – before the personal computer was even born!
Charismatic and engaging, the artist was born in Italy, raised in New York, and was a third generation artist who did not want to follow in the family footsteps when he was growing up in his ethnically mixed neighborhood in the Bronx. He attended City College in New York as a major in romance languages. Finally switching to the "family trade," he received a BA in art, an MFA, and Ph.D. in Communications from the University of Iowa. In 1950 he received a Fulbright Grant to study sculpture in Italy. His work has been widely exhibited, inspiring high praise – and even poetry – from reviewers.
Fumagalli was brought into the University of Wisconsin-Stout in 1964 to create an Art Major during the school's transition from an independent college traditionally known for Home Economics and Industrial Arts to a branch of the state university system with a varied curriculum. Fumagalli is credited with lifting that program from obscurity to distinction – an unlikely accomplishment in a small town 70 miles east of Minneapolis. From 1964 until he retired 22 years later, Fumagalli worked on his own art, assembled a dynamic teaching staff, and trained and inspired hundreds of students. His years at Stout have been described as "colorful and controversial."
Orazio Fumagalli was married to FOTM documented artist, Barbara Fumagalli. After retirement, Fumagalli relocated to Camarillo, California where he continued to work and exhibit until his death in 2004.
Orazio Fumagalli's documentation took place in 2002. The FOTM Archive contains extensive information about this artist.