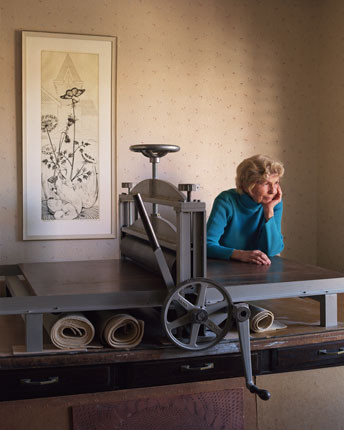 Engraver
Portrait © Donna Granata 2003
Barbara Fumagalli knew she would be an artist at around age seven when she began sketching and painting on family outings. Instead of playing volleyball and baseball, the family would pack up sketch pads, paint supplies and little easels and go out and paint. A regular indoor family activity was to set up a still life in her father's studio and paint. Fumagalli likened it to a university class, with the only difference being that she and her sisters could contribute to the still life "ingredients." "Now it seems like kind of a big thing for a family to do all that, but at the time I didn't think it was strange at all," she recalled recently. This art immersion is not surprising considering her father's career as an artist and art teacher at Washington University in St. Louis, and her mother's art avocation, creating "batiks and all sorts of things" at home.
Her lifetime of training paid off when she entered the University of Iowa and the usual art prerequisites were waived for her and she went directly into advanced classes. It was at Iowa that she was introduced to engraving. A detailed and patient woman, the challenge of the art intrigued her and she never gave it up.
Fumagalli's work has been widely exhibited nationally both in group and solo exhibitions including the Museum of Modern Art, NYC, the Library of Congress and a traveling exhibition presented by the Smithsonian Institute in 1966-68. Her work is also represented in the collections of Nelson A. Rockefeller and the Museum of Modern Art. Now a resident of Camarillo, Fumagalli was born in Missouri. She holds a BFA and MFA from the University of Iowa. She is the widow of FOTM documented artist, Orazio Fumagalli.
Barbara Fumagalli's documentation took place in 2002. The FOTM Archive contains extensive information about this artist.
.