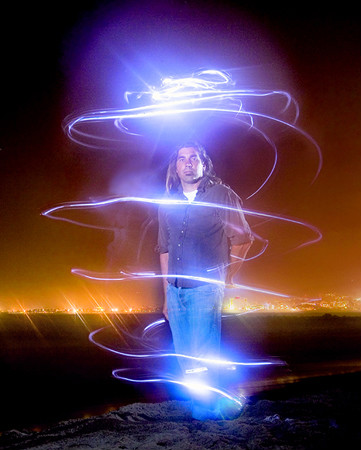 Sculptor and Land Artist
Portrait © Donna Granata 2007
Matt Furmanski — educator, artist, public arts commissioner and, oh, yes, surfer dude.– is driven by passion — passion for his art, passion for teaching, passion that drives him to make connections between seemingly opposite forces, in capturing the "moment between balance and collapse." Materials generally thought of as "industrial" become, in his hands, objects of contemplation. His work, intellectually rigorous and intriguing, conceals as much as it reveals and engages the viewer as it mystifies. Matt's art, in his words, "has the potential to demand a lot from its viewers, and I expect the viewers to demand a lot from it." He wants us to question, to let our minds make magical leaps, to study the work and its relationship to both art and industry. A professor of art at CSUCI, Matt calls teaching a "great responsibility", knows his classroom can be a place of possibilities for the students to explore art and themselves.
Furmanski is married to FOTM documented artist Monica Furmanski. They operate a gallery in Ventura that highlights the work of emerging, cutting-edge artists.
Matthew Furmanski's documentation took place in 2007 and was Co-sponsored by Jessica & Prescott Stanley and Lainie & Peter Cannon. The FOTM Archive contains extensive information about this artist.