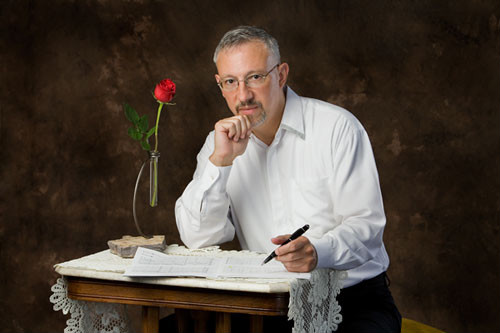 Composer
Portrait © Donna Granata 2008
Miguel del Aguila, Uruguayan-born American composer, was a child prodigy, graduating from the main music conservatory in Montevideo at age 14. The photograph, using antiques and one romantic rose, pays homage to Miguel's teachers who were born in the 19th century. Although trained in the classical romantic tradition, Miguel composes in a very modern idiom. Former students, now international performers, include oboist Dwight Perry and composer/conductor Daniel Black (portraits found elsewhere in Artist's Gallery). These students began their musical careers as part of a community project called Voices, founded by del Aguila.
Miguel del Aguila is a Grammy-nominated, locally based artist with an international reputation. Returning to California in 1992 from Vienna, del Aguila was referred to as "resident music man of the year" (Los Angeles Times) and one of the "top 10 people to watch" (Ventura County Star). He received a Kennedy Center Friedheim Award in 1995, and awards from the California Arts Council, including Artist in Residence in 1996 and 1998 and a Composer Fellowship for 1999-2000. His catalog contains more than 60 compositions, including opera, orchestra, choral, solo, and chamber works, as well as music for theater and television.
Miguel del Aguila's documentation took place in 2000 and was sponsored by Paula Spellman.  The FOTM Archive contains extensive information about this artist.