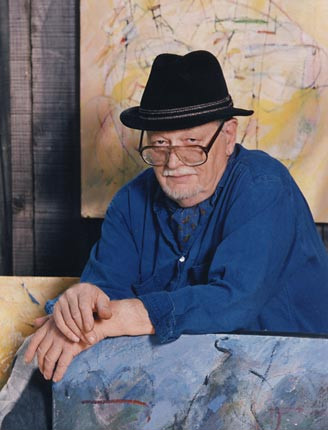 Painter
Portrait © Donna Granata 1999
Wesley E. Johnson was born in Ojai, California and became involved with art while studying at Ventura College, where his plans were to become an engineer. He continued his art education at the Brooks Institute and at the University of California Santa Barbara, finding a mentor in the well-known painter and theoretician, Howard Warshaw. At a point, Mr. Johnson spent time in Paris under the tutelage of the renowned Cubist, Andre Lhote.
Johnson considered his works to fall within the category of abstract expressionism, with apparent Cubist and Impressionist influences. His body of work transcended mediums; he would work as a muralist, creating figurative scenes on the commissary walls of Fort Ord and then would channel large colorful and abstract oils and acrylics on canvas. Some of Johnson's murals adorn the walls and ceilings of century-old buildings in Milan and Paris. Other notable works are his ultra-modern takes on églomisés, involving the intricate process in which glass of foil-stripped convex mirrors is painted in a manner that creates a multi-dimensional viewing experience.
Johnson's long and productive career also included service to the United States military as well as many years enriching his home community as a professor at Ventura College. 
Johnson considered his greatest artistic gift to be the innate sense of colors he'd choose to work with. His pieces often feature exquisite balances of light and dark, abstract and objective, with the confidence of strong colors that both compliment and resonate to the delight of the observant eye. 
Many of Johnson's abstract expressionist pieces were exhibited at the San Francisco Museum of Art, the Santa Barbara Museum of Art, the San Francisco Museum of Modern Art, the Los Angeles County Museum of Art, the DeYoung Memorial Museum, the Gallery de Seine, and the California State Fair. His body of work has exhibited widely across the American West.
In life, he was recognized and was awarded many accolades, including the renowned James D. Phelan Award for Literature and Art. His artistic focus also expanded outward, as he spent productive time restoring historic pieces of Western Art by John Edward Borein.
Johnson's profile was published in the widely-sold book LA Rising: So-Cal Artists Before 1980, written by Lyn Kienholz.  It tells the story of an important era of art and its context within the ever-developing Los Angeles. The book is an encyclopedia of 500 profiles that made the human fabric that wove the Southern California art tapestry as it existed prior to 1980.
Wes was an avid fisherman and especially enjoyed his time in the outdoors, whether it was in a boat on Lake Casitas, casting off the Ventura Pier, or hiking the trails we all know and love in the Ojai Valley, his home. Much of these activities informed the creativity he channeled in some of his most celebrated pieces. He was a great conduit for translating the emotion of the outdoors into visual works.
Johnson died of cancer in 2017.  He is survived by his two daughters, Johanna and Sarah Johnson, and his four step children, Claudia, Richard, Stephen, and Paula Power.
Wesley Johnson's documentation took place in 1999. The FOTM Archive contains extensive information about this artist.