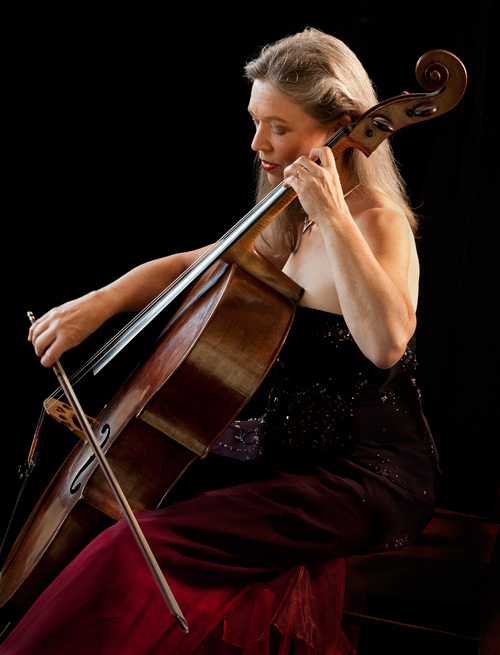 Cellist
Portrait © Donna Granata 2011
Accolades abound for Ojai resident Virginia Kron. She is called "a remarkable musician [with a] distinctive cello style." Kron received her Bachelor's in Music degree from University of Wisconsin, Madison in 1977; Master's in Music from USC in 1979. She has studied with international superstars, recorded with the Czech National Symphony, performed with the New West Symphony in the premier of "Concerto for Cello and Chamber Orchestra" by John Biggs; and in festivals nationwide. Kron knew early on that the cello would be her life. Classically trained, she finds herself drawn to the music of our time and finds herself responding to it as powerfully as to the beloved classics. Virginia's vivacious demeanor and superb musicianship have endeared her to audiences and critics alike.
As a chamber musician Kron has performed on many series and concerts through the southwest and California including the Sedona Chamber Music Festival, Music of the Spheres at the Lick Observatory, and a College Music Society conference in San Diego.  She was a regular contributor to the Current Sounds Consortium and Sundays at Four, a live Los Angeles radio broadcast.  Since 1978 Kron has spent most of her summers at music festivals including Aspen, the Music Academy of the West, Tanglewood, Rome, Monterey, Bakersfield, the Ojai Music Festival, the Mozart Festival, Bear Valley and 27 years at the Cabrillo Festival of Contemporary Music in Santa Cruz under the direction of Marin Alsop.  Kron is a member of The Singer Chamber Players, founded in 2015 by Clarinetist David Singer, a FOTM documented artist.
Virginia Kron's in-depth oral history and documentation took place in 2010, co-sponsored by Dr. Norma Beck and John Brant Wealth Advisors, John & Cherie Brant. The FOTM Archive contains extensive information about this artist.