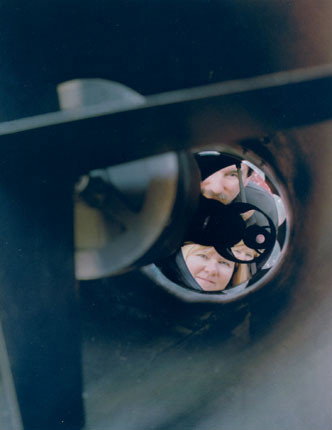 Astrophotographers
Portrait © Donna Granata 1999
Tony and Daphne have always worked together as a team. They became enamored with the stars in 1986 when they bought his first 8 inch telescope. They viewed Saturn and were so fascinated, Tony decided to photograph the planet. After several tries, he was unable to create an image which satisfied him. He studied and learned the standard technique at the time for photographing the heavens and still was not happy with the images. He started experimenting and developed an enhancement process that quickly gained him a tremendous amount of respect and notoriety. This exclusive enhancement process takes dim color objects and enhances them into bright and colorful images. Tony's photographs appear in numerous astronomy magazines and text books. Most recently, his Whirlpool Galaxy (on display) was featured in the February issue of National Geographic. His work can also be viewed at Disneyland's Space Mountain and in the NASA archives.
Tony and Daphne have both worked as photo lab technicians with combined experience of over 30 years. They owned a large custom/commercial photo lab for many years (Hallas Photo Lab in Ventura – now the Image Source) but sold it so that they can concentrate on astrophotography full time. In 1992 they formed Astro Photo, a small lab specifically for astrophotographers. They are able to offer the techniques they used in processing their own work to others who do not have the time to process their own.
Tony & Daphne Hallas' documentation took place in 1998. The FOTM Archive contains extensive information about this artist.