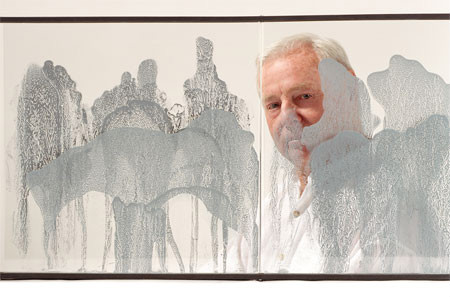 Environmental Artist/Ceramist
Portrait © Donna Granata 2004
Sculptor Tom McMillin has made an impressive artistic evolution from sea captain and ceramist to conceptual artist of dynamic installations. "My art has been devoted to process and environmental concerns," says McMillin. "My installations have dealt with laminar flow, sedimentation, erosion, magnetic fields and various other natural phenomena. My goal is to point out the intrinsic beauty within these natural systems."
The artist cites profound impacts on his art from growing up on a farm and becoming the youngest licensed Coast Guard captain on the West Coast at 18. His father contributed to his "great appreciation of the soil" and a mentor captain with "great respect for the sea" pushed him to higher education "to become excellent in the thing I loved the most."
After graduating with an MFA in Ceramics from USC, McMillin set up a studio and made a living as an artist full time with accounts throughout the United States and showrooms in Los Angeles and New York. The artist moved to teaching to have more "free time to pursue more creative goals, and more time at sea to play Captain."
The widely exhibited artist retired after 35 years of teaching at the Cal State Northridge Art Department.  He lives in Port Hueneme with his wife Geri McMillin also an accomplished artist. Among Tom's most dynamic sculptures is "Climatic Extremes", a large room installation that informs the viewer audibly, visually and physically as water continuously transforms from frozen, to liquid, and then gas states as it interacts with human exposure – suggesting metaphors for global warming and water politics. Climatic Extremes was done in collaboration with George Geyer and is part of a traveling exhibition called Liquid Art, sponsored by the Metropolitan Water District of Southern California.
His work has been exhibited at the LA Institute of Contemporary Art, Beatrice Wood Center for the Arts, LA County Art Museum, Museum of Contemporary Art in Chicago, PS1 in New York, Banff Center for the Arts in Canada, as well as at the Cal State Northridge Art Gallery as part of "Southern California Environments."
Tom McMillin's documentation took place in 2003. The FOTM Archive contains extensive information about this artist.
.