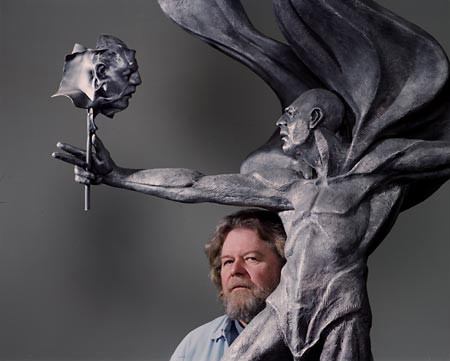 Sculptor
Portrait © Donna Granata 2000
Ted Gall began his career in art in the mid-1960s as an animator for teaching films, and continued to broaden his skills as a package and graphic designer. In 1973, he began a 22-year association with automotive gasket manufacturer Fel-Pro, Inc. In addition to being responsible for much of the firm's graphic design, he designed all corporate awards as well as numerous sculptures incorporating the shapes and essential materials of the firm's products, some of which are park installations of major proportion.
Ted has been working in metal since his early days as an artist. The human form has always been his primary focus. He enjoys placing his compelling figures in thought-provoking situations. "I am often honored and touched by the very personal and deep responses that people have shared with me upon seeing my work," he says. "My sculpture is my depth."
Gall studied at the Art Institute of Chicago and the American Academy of Art. He has served as a consultant to the Art Institute and to the Illinois Arts Council, and has shared his knowledge with students in Illinois as well as at the Ojai Art Center. "My career as a sculptor is very satisfying to me—and it is most gratifying when I know that my work has touched someone in a very deep place," says Gall.
Ted Gall's documentation took place in 2000 and was sponsored by Hal Berger. The FOTM Archive contains extensive information about this artist.