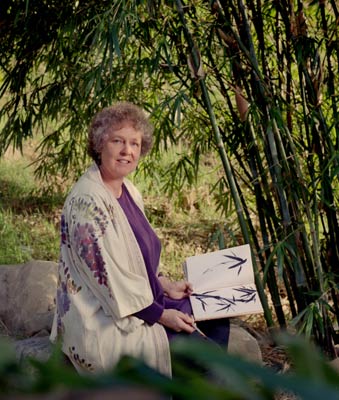 Brush Painter
Portrait © Donna Granata 2000
Nancy Rupp was a widely exhibited brush painter known for the bold ink work that underlies traditional Chinese brush painting. She captured the energy and emotion of her subject through strong control of her brush. Her work avoided busy detail through soft washes of color. She would often comment how she was continually fascinated by the simplicity and vitality of ink on rice paper.
Some of Rupp's later works often explored the "po mo" or thrown ink techniques, interpreting and controlling ostensibly random applications of ink and layered watercolors on tissue-thin chien paper. Rupp's work was part of a major group exhibition in the Newark Museum at Rutgers University, which then traveled to Taipei, Taiwan. Chinese, Japanese and Korean peers lauded her calligraphy work, inviting her to nine international exhibitions.
Rupp's rural Iowa childhood nurtured in her both laughter and an intimacy with nature. Gifted and at ease with experimentation, she trained as a research biologist and earned a masters degree in Oceanography at Johns Hopkins University. She went on to work at Scripps Institute of Oceanography. While staying at home to raise her daughters, she was drawn to brush painting by the elegance and simplicity of the art and its tools. She studied for eight years with Jean Chua Shen and in 1984 was accepted through the University of Minnesota to study traditional Chinese painting at the Zhejiang National Academy of Fine Arts in Hangzhou, People's Republic of China. In 1993, Rupp returned to China with her mentor, renowned teacher and author on brush painting, I-hsiung Ju, and toured eight major art academies. A scholarly review of her work concluded that "she had something to show us in Beijing" and at the University in Xiamen, "she paints with the spirit of a dragon."
Her Western heritage did not inhibit her from studying Asian culture. She had a Zen quality that transferred to her work. For example, if she felt strong and powerful like a horse, she would paint a horse with energy and movement, with a minimum of brush strokes. Always willing to engage the community, Rupp took on an unprecedented third term as the president of the Ojai Studio Artists – a group of renowned artists who open their studios each fall to raise money for art scholarships. She was both a leader and a team player, always willing to give of herself for the greater good. Her kind, gentle and compassionate spirit will live on in all who knew her.
Nancy Rupp's documentation took place in 2000. The FOTM Archive contains extensive information about this artist.