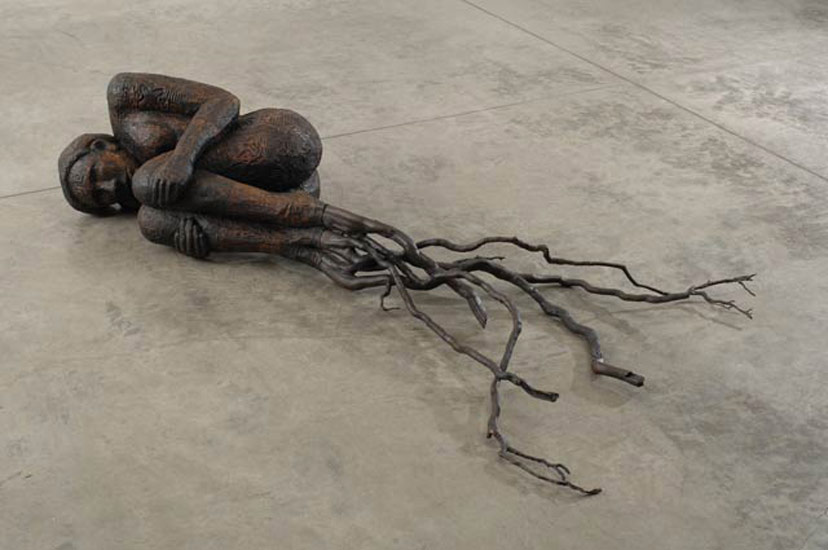 Mixed Media/Found Objects
Alison Saar "La Louver Hither Bareroot"
Can artists help us understand and deal with complex issues of the day? Alison Saar uses bold symbolism, literature and mythology as she explores the role of African-Americans, especially African-American women, in our society and our consciousness. In her Topsy Turvy exhibit that was at the LA Louver Gallery in 2018, Saar literally took the figure of Topsy out of Uncle Tom's cabin, added her elements of ancient Greek mythology (Jason and the Argonauts), and creates a more than feisty, more than wild, character who challenges us to truly see Topsy, to recognize her worth and contemplate white society's role in the subjugation of another race. Saar lets us know that our work is not over, that Topsy is more than relevant, she is needed. Her work incorporates found objects, shards of pottery and glass, wood, cotton, wire, odds and ends, and is included in museums and private collections across the U.S.  Alison Saar understands the absolute necessity of tackling timely issues of race, subjugation and authority with powerful works of art.
A native of Los Angeles, Alison Saar was born to well-known African-American artist Betye Saar and Richard Saar, a mid-century modern ceramicist and art conservationist. Her parents created an environment where art was not limited to one genre, rather she and her sisters were encouraged to appreciate a wide variety of art forms. Assisting her father with restoration work taught her about the properties of various materials, techniques, and aesthetics. She credits her mother, with realizing the importance of metaphysical, spiritual and cultural traditions. Saar earned her BA at Scripps College and MFA at Otis College of Art and Design. She was included in the 1993 Whitney Biennial. Her works are included in museums and private collections across the U.S.
Saar's documentation took place in 2018 and was sponsored by Roxie Ray & Irv Hilf. The AfterGLOW was hosted by Laura and Thomas Cook.
The Focus On The Masters archive has extensive information about this artist.
.