Michael Dvortcsak
1938-2019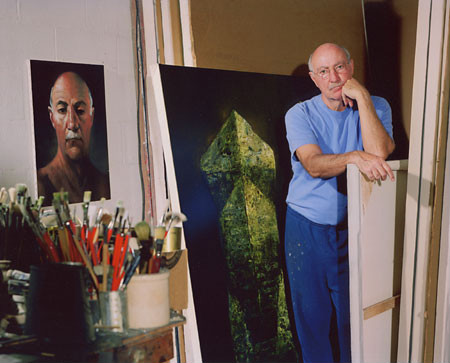 Painter
Portrait © Donna Granata 2000
Michael Dvortcsak was an artist whose work defied categorization. Although his paintings speak to the intellect, they contain elements that are as primal as a scream. His imagery is realistic, yet dreamlike; bathed in light, but shrouded in mystery. Is Dvortcsak showing us a prehistoric version of ourselves, or is he involving us in a parallel universe? Dvortcsak's masterful use of the human figure, landscape and still life is the means by which he helps the viewer understand the connection between art and science, and myth versus reality.
Dvortcsak's credentials include bachelor of art and master of fine arts degrees from the University of California at Santa Barbara, where he lectured and taught for several years. He was a visiting lecturer at California State University, Long Beach, and a visiting artist at the University of Texas, El Paso. His works are in many private and public collections, including the Museum of Contemporary Art in Los Angeles, Chemical Bank in New York and Mitsubishi Corporation in Tokyo.
Micael Dvortcsak's documentation took place in 2000 and was sponsored by Hal Berger. The FOTM Archive contains extensive information about this artist.