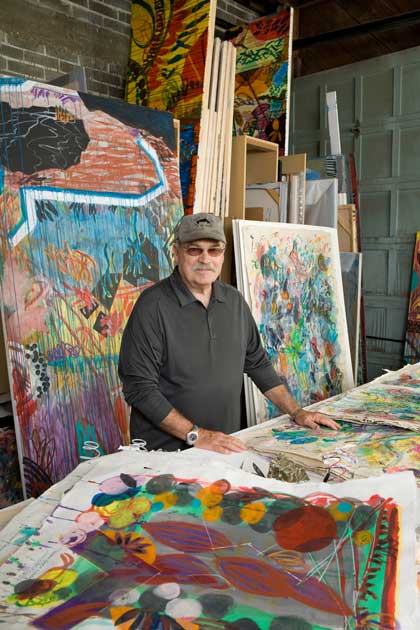 Painter/Performance Artist
Portrait © Donna Granata 2011
Serendipity and playful fate led John White, a young man working in a brewery whose loftiest aim was to be a professional golfer, to achieve success as a working artist.  White credits his early training to Giacomo Petri whose San Francisco art school cum boarding house changed the direction of his life in the 1960s.  Although performance art dominated his early career, White has always painted and sculpted.  His works reflect the blurred edges of reality and often, through the use of bold color splashes, the joy he feels in life.  In White's words:  "I made a lot from a little.  I'm having a  f#@$&*%  ball."  This artist participated in Pacific Standard Time, an initiative of the Getty with arts institutions across Southern California.
White's documentation took place in 2011 and was sponsored by Patricia & David Herman.
The Focus On The Masters archive has extensive information about this artist.
.