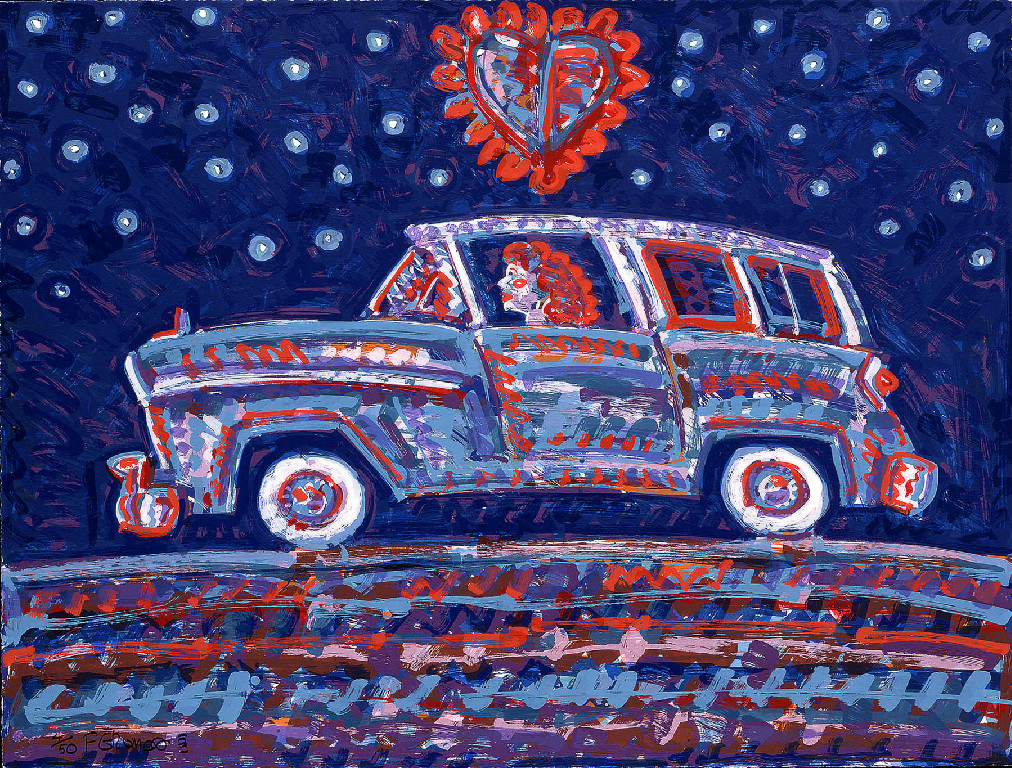 Painter/Muralist
Cousin Mary Helen and Her Chevy Nomad by Frank Romero, serigraph
As a pioneering figure in the rise of the Chicano Art Movement, Frank Romero is best known as a muralist but now spends most of artistic energy in his studio practice. In the early 1970s, during the height of the Chicano civil rights movement, Romero gained recognition as one the founders of Los Four, an influential Chicano art collective that included Frank Romero, Carlos Almaraz, Gilbert Lujan and Roberto de la Rocha. In 1974, Los Four were featured in a landmark exhibition at the Los Angeles County Museum of Art. This exhibit was a critical endorsement of Chicano Art as a unique movement in the history of American art. Romero's solo work has been shown extensively throughout the world and is featured in many prestigious collections including the Smithsonian American Art Museum in Washington D.C., the Los Angeles County Museum of Art, The Cheech Marin Collection and the Carnegie Museum in Oxnard to name a few. Locally, Frank Romero's work is on permanent display at The Collection at RiverPark, in Oxnard.
Frank's documentation took place on March 11, 2014 and was sponsored by The Collection at Riverpark. The AfterGLOW was prepared by Christine Beirne & Yennyn Beirne and served at Vita Art Center.
The Focus On The Masters archive has extensive information about this artist.
.