Doug Spaulding
(1929-2012)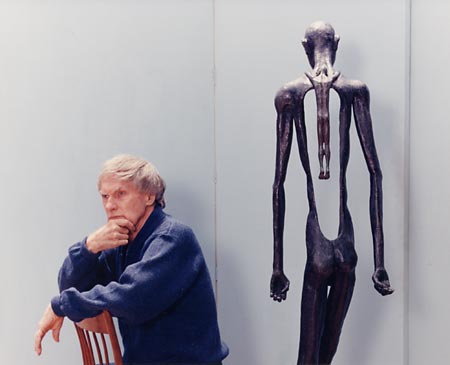 Sculptor
Portrait © Donna Granata 1999
Douglas Malcolm Spaulding was born in Danielson, Connecticut in 1929. He was raised in the family home built by his father Jacob, a skilled carpenter. His mother Francis, a school teacher, bore seven children and instilled in Spaulding a passion for education that led to a successful career as a teacher and educational administrator.
Spaulding received his bachelor's degree in English and Psychology from Pepperdine University in 1950, where he also developed a love of theater and the arts. He was active in the campus men's choir and theatrical productions, and took advantage of the cultural events available in Los Angeles by ushering at the downtown theaters where opera and musical theater productions were staged.
Upon graduating from Pepperdine, Spaulding obtained his teaching credential and began his career in the Connecticut vocational school system. In 1956 he joined the Department of Defense School System (DoDSS) and moved to Yokohama, Japan to teach History at Nile C. Kinnick High School; thus began a 30-year career of teaching and school administration at U.S. military bases in Japan and other regions of the Far East.
Spaulding was married to Allie K. Grove in 1963. They raised two sons, David and Jonathan, and instilled in them a love for Japanese culture, language and the arts, and athletics. David and Jonathan both attended high schools in Japan under Spaulding's supervision, and both subsequently attended UCSB and settled in the Santa Barbara area.
Spaulding was promoted to assistant principal at Kinnick High School in 1958 and to principal in 1960. He served as principal at Kinnick and as coordinating principal for the other DoDSS schools in the region until 1980. He was a devoted educator and a strong believer in the power of education to bring positive and lasting change to the lives of his students. He introduced several innovative educational programs to the schools under his supervision, ranging from vocational programs to advanced college preparatory courses, and he was an active supporter and booster of the school's athletic programs. During his tenure at Kinnick, he oversaw the education of thousands of students, and left lasting impressions on many; his life was enriched during retirement by the former students and colleagues who continued to correspond with him long after he left Kinnick.
During his time in Japan, Spaulding continued to be active in amateur theater productions, traveled extensively throughout the Orient, and actively collected Japanese antiques and art. He also developed his own considerable talents as a sculptor, collaborated with local Japanese artists in Yokohama and Tokyo, and staged several exhibitions of his works.
In 1980, he accepted the role of chief, executive services at DoDSS and moved to Okinawa, Japan; he was subsequently promoted to chief, education division in 1981. In these roles he traveled extensively throughout the Pacific region. He retired in 1987 and moved to Ventura, California.
After settling in Ventura, Spaulding devoted his energies to his family and his art. He continued to produce sculpture, drawings, and paintings in a wide variety of media and styles, and was very active in the Ventura art scene. He collaborated with local artists and produced several local exhibitions of his works. He frequently contributed artworks to juried competitions in the Los Angeles region, won several awards and was profiled in several publications. His art was purchased by private and public collections. He also was active as a writer, hosted regular writers' group meetings at his home in Ventura, and produced several novels.
Doug was an ardent believer in the importance of civic service and charity, and gave generously of his time and money to a wide variety of local and national organizations throughout his life. He was a regular volunteer and organizer at his voting precinct.
Doug Spaulding's documentation took place in 1997. The FOTM Archive contains extensive information about this artist.