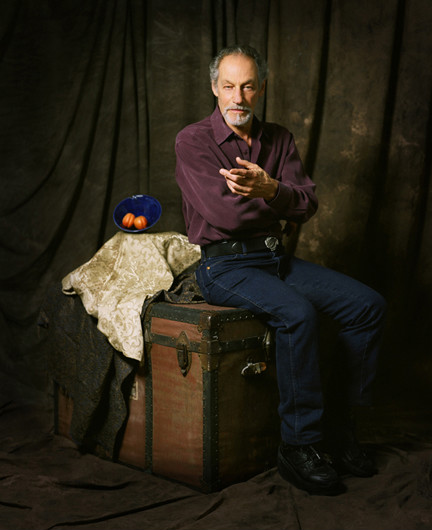 Painter
Portrait © Donna Granata 2008
"Every mark, every brushstroke one registers on the canvas requires the utmost taste and sensitivity to produce a beautiful painting. This quality of caring and consideration is what makes the art of the discipline so wonderfully difficult. It is not the technical problems. It is in understanding that everything matters – in painting and in life." The words are David Leffel's. Leffel is as much respected for his art as for his teaching. He is less concerned with passing on elements of technique than he is with inspiring his students to see the world with new eyes, to become "sensitive to the remarkable significance of life." This is not to say that he does not have very specific notions of the importance of solving technical problems, of learning what to include and what to leave out of a canvas. He is a painter who continues to inspire all those who paint and those who wish to see a world of beauty revealed.
A virtuoso of light and composition, David A. Leffel has all of the components of a true master. His chiaroscuro effects sculpt light from inside his canvasses with such skill that one immediately feels the sense that he is one of history's great painters. His paintings reflect a quiet elegance with a passion for light, texture and color. Leffel has been acclaimed as a "20th Century Old Master". The influence of 17th Century Dutch Masters (particularly Rembrandt) on his work is evidenced with every stroke of his brush.
Leffel was born in Brooklyn New York in 1931 and was raised with a strong Russian Jewish heritage. He was separated from his family at age four for eleven years as the result of contracting osteomyelitis, a crippling disease which affects the bone and marrow. While recovering in the hospital, he began to draw. He states, "…it gave me something to do…" His drafting skills later proved to be unquestionably exceptional. Upon graduating from high school, Leffel enrolled in Parson's School of Design in New York where he studied advertising and design as well as abstract art (the contemporary style at the time.) It was later when he enrolled in the Art Students League in New York where his distinctive style developed. It was also there that Leffel met one of his mentors, Frank Mason.
Mason taught the techniques needed to portray light and shadow which empowered Leffel with a true understanding of light. David Leffel has been honored by some of the nation's most well respected organizations including Allied Artists of America, The National Academy of Design and The National Academy of Western Art – to name only a few. He is represented in public and private galleries and collections across the United States, including Princeton University. Leffel returned to the Art Students League in 1972 and taught for 20 years. His willingness to share his mastery has earned him a reputation as a teacher who can communicate and teach extremely well. He teaches his students "how to see"; something he feels one must truly understand in order to be successful.
This portrait was created using the same style of dramatic lighting reminiscent of Rembrandt that Leffel uses in his paintings. He may look familiar to our FOTM supporters. He is the same artist featured in our logo, painting a portrait of Beatrice Wood.
David Leffel's documentation took place in 1997 and 2007 and was sponsored by Paula Spellman. The FOTM Archive contains extensive information about this artist.