Carlisle Cooper
(1919 – 2013)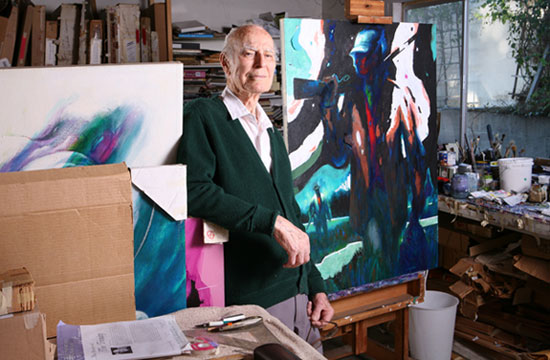 Painter
Portrait © Donna Granata 2011
Often, after meeting Carlisle Cooper, one was amazed at his avant-garde painting style. One would expect him, as a Southern gentleman, to have a very traditional approach to his work.
In reality, he was one of the finest colorists. Mr. Cooper (as he is known to his legion of students) taught and inspired artists at Ventura College for more than 40 years. His paintings incorporated the perplexity of man's relationship to Truth. He dealt with the problem of man's soul/psyche remaining individualistic and triumphant over the mechanized and computerized era in which we find ourselves. He believed that art's important role in this era is what it has always been in history – to reveal man to himself.
A graduate of the Art Institute of Chicago, Cooper also studied at some of the other finest institutions in the United States including Duke University, Chicago Academy of Fine Arts and the American Academy of Art in Chicago.
Carlisle Cooper's in-depth oral history and documentation took place in 2007, sponsored by Jim and Mary Galbraith. The FOTM Archive contains extensive information about this artist.