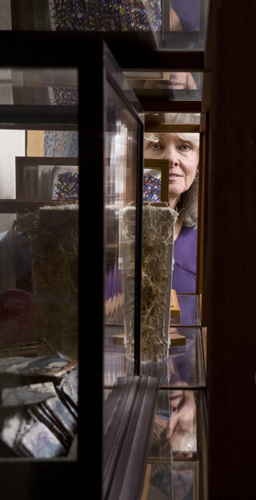 Painter
Portrait © Donna Granata 2011
"With the thought of peace let me contemplate the world."  This is a phrase that Beverly Decker has
chosen to begin a philosophical statement that is inspired by Buddhist text. The recitation continues with "compassion, joy and love."  Many of her works are indeed written words, a kind of spiritual calligraphy, layered and colored, in acrylic, oil, watercolor, ink and mixed media and are themselves a kind of meditation, that create truly peaceful and thoughtful objects of contemplation.  Her approach is spiritual and reflects her many years studying Eastern and Western philosophies.  She is a gifted teacher, working at CSUCI, Ventura College and Santa Barbara City College.  In France she has conducted popular workshops.  Beverly is a founding member of Women Beyond Borders, an international project that unites women's voices around the world through sculpture and the written word.
Beverly Decker's documentation took place in 2011. The FOTM Archive contains extensive information about this artist.