Beatrice Wood
(1893 – 1998)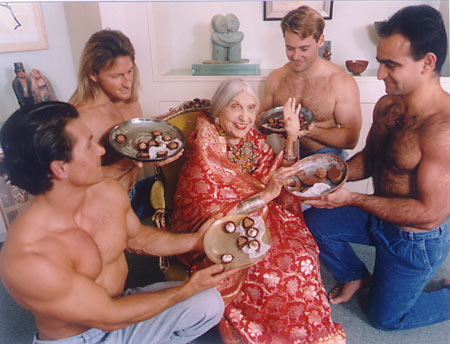 Ceramist
Portrait © Donna Granata 1995
World renowned for her exquisite luster glazes and whimsical figures, Beatrice Wood's fascinating life beckoned the most avid art historians to her door. She was one of the last survivors of one of the most influential periods in art history, the Dada movement.
Born into a wealthy family and determined to become an artist at an early age, Beatrice was a rebel. Her mother was particularly overbearing and did not agree with her daughter's aspirations. After several heated discussions, Beatrice was sent as a teenager to the famed Julian Academy in Paris. It was at this time the young artist became convinced the bohemian life was for her. She briefly occupied a loft in Giverny, where she had the opportunity to spy through the hedges on Claude Monet painting in his wonderful garden.
Beatrice Wood studied acting with the Comedie-Francaise, which was only slightly more tolerable for her mother than Wood's pursuit of painting. Beatrice spoke French fluently and somehow acting in French seemed to make it acceptable. Prompted by the onset of World War I, the young actress returned to New York and became part of a French Repertory Company. In New York, Wood became involved with a group of individuals who had a profound effect on her and on the 20th century. It was among this avant-garde group that the Dada movement flourished.
Beatrice Wood did not discover pottery until she was 40. She enrolled in a ceramic class to simply try to create a teapot to match plates she had bought in Holland a couple of years earlier. She continued to study pottery among some of the great ceramists of the time including Glen Lukens and Gertrud and Otto Natzler, as well as Ojai's own Otto and Vivika Heino. Wood became more sophisticated and experimental and eventually began to create glazes that were the envy of the most serious potter.
Throughout her life she kept a visual and written diary. Through drawings, ceramics and her eloquent writing, she chronicled her life from the most subtle to the most traumatic experiences. Among the most unusual writings is a three-line diary she kept daily from the time she was a young woman. The monumental task of publishing these diaries was among her last endeavors. Her sophistication as an artist was punctuated by her philosophy on life, her honesty, compassion, integrity and wonderful sense of humor. Reoccurring themes in her work often included male and female relationships and love gone awry.
Her extraordinary life inspired us to dream and to simultaneously appreciate both the past and the now. No matter her age, she was perpetually contemporary. Her work and her energy compell us to realize that history is made every day. Wood's greatest gift to us was her demonstration that life is to be lived to the fullest. She was an advocate for world peace and felt if she was able to give only one gift to mankind, it would be to end all war. We can honor her memory by living life as she did; with great generosity, creativity, compassion and, above all else, honesty.
Beatrice Wood's documentation took place in 1996. The FOTM Archive contains extensive information about this artist.