William B. Dorsey
 (1942 – 2019)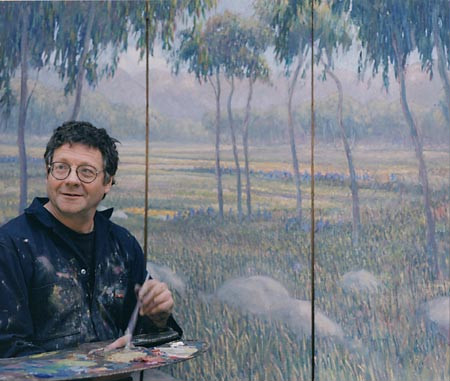 Painter
Portrait © Donna Granata 1998
It is with great sadness that the Focus on the Masters Archive & Library announce the tragic passing of landscape painter William B. Dorsey. On the evening of April 29, William died after being hit by a pickup truck while walking across a street in Palm Desert, California.
Primarily self-taught, William was best known as a California Landscape Painter. His paintings were reminiscent of the California Impressionists with rich atmospheric perspective and depth. It is important to note that William had difficulty seeing distance due to an eye condition. He would create the illusion of depth with skillful painting techniques and his sophisticated use of color.
William's paintings were frequently available on the secondary market, in antique stores and auction houses, where they were often paired with early California painters such as Edgar Payne, William Wendt and Ray Strong. William would joke that when collectors met him, "They were always surprised that I am still alive."
Born in Washington DC, William developed a love for Alaska as a child when his father was stationed there with the Air Force from 1949 to 1951, before moving to Ojai, CA in 1955. Following his graduation from Nordhoff High School, William returned to Alaska in 1961, piloting a Piper Cub. He made the trip in five days. Considering he only had 50 hours of flight experience, it was an astonishing feat at the time. William loved the summer season in Alaska where the optimum light "would last for hours". Snowcapped Alaskan mountains were a reoccurring theme in the artist's work.
Sharing his time between California and Alaska for over 30 years, William capitalized on all his skills to earn a living while developing his painting style. He worked as an Alaskan bush pilot, a fisherman, a lumberjack, a boat builder and a song writer, writing songs under contract for Screen Gems-Columbia Music. William wrote songs for the Monkee's, Tiny Tim, The Partridge Family, Bobbie Gentry and Michael Martin Murphey, among others.
Dorsey preferred to work under natural light and would construct elaborate skylights to provide the optimum daylight painting conditions within his studio. Often appearing as the quintessential artist, covered in paint from head to toe, William was a wonderful raconteur, sharing stories of his travels, his love for art and his impressive ancestry comprised of notable inventors and pioneers.
William's father, Herbert Dorsey Jr., was a Harvard-educated meteorologist who participated in the Byrd expedition to the Antarctic in the late 1930s. He was among the first exploration party to winter at the South Pole. An island was discovered by Herbert during his exploration that bears the Dorsey name. In addition, his father became the first American to drive a dog sled team over the Greenland ice cap in the 1940s. His maternal grandfather, diplomat Joseph Ballantine, was an associate of Cordell Hull, the secretary of state in the Roosevelt administration. His paternal grandfather physicist and inventor Herbert Dorsey created the fathometer, an instrument for measuring ocean depths and helped to develop long distance telephone service. His great-uncle, George Dorsey, was a world-renowned anthropologist and author. William was very proud of his family history and kept extensive archives, including some of the equipment his father used half a century ago during his historic expeditions.
After spending over 50 years in Ojai, William and his wife Mary, moved to the Eastern Sierra in 2004, before moving to Palm Desert in 2010. The natural landscape served as a constant stimulus to the painter. Whether he was painting the hills of Ojai, the California coastal regions, the desert or the mountains of Alaska, each painting was a record of the location executed in his distinctive impressionistic style. When asked what inspired him to paint, William said without hesitation, "The wolf at the door is the muse that drives the paint."
William Dorsey is survived by his wife Mary Dorsey, stepsons Pablo and Django Grande-Weiss, sister Diana Frantz and brother Herbert Grove Dorsey III.
William B. Dorsey's documentation took place in 1998 and was sponsored by Hal Berger. The FOTM Archive contains extensive information about this artist.