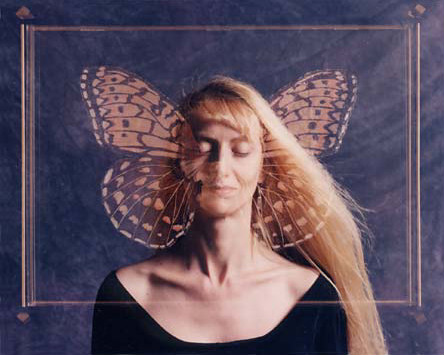 Environmental Artist/Ceramist
Portrait © Donna Granata 2004
Valerie Noelle's work is greatly influenced by her childhood exposure to the diversity of human culture as well as nature's myriad forms, through her extensive travels as a result of her father's military career.
Her mother was a French citizen whom her father met on his tour of duty in Paris. Noelle was born in Fontainebleau, France, and thus began the itinerant lifestyle that helped to forge her identity as a citizen of the world. Her family's travels took her to Japan, Germany, Spain and much of the United States.
One of the earliest influences on her sensibilities as a designer came from her great-grandfather. She inherited the remains of the button manufacturing firm he operated in Paris between the two world wars. In that bequest, she found the inspiration to study textile and jewelry design at Oregon State University, where she received a bachelor's degree in 1981.
She is also an avid student of ballet, and her deep love of dance has contributed to her creative vision. Noelle has designed numerous costumes for ballet companies and has also collaborated with various choreographers.
Her exploration into mask imagery and larger sculptural forms was an expansion into territory she first explored with paper art/jewelry. This earlier work resulted in a line of limited edition mixed-media cast-fiber personal adornments.
Noelle is deliberate about making certain the inner surfaces of her assemblages warrant as much attention as the outer areas, so that the observer's eye may discover previously non-apparent visual experiences with each successive viewing of one of her pieces. This portrait commemorates a profound change in the artist's life as she embarked on a new marriage.
Valerie Noelle's documentation took place in 1992. The FOTM Archive contains extensive information about this artist.