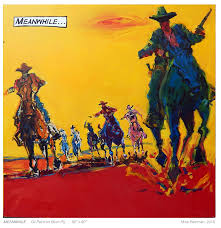 Painter
"Meanwhile" by Mick Reinman, 2016

oil on birch ply, 60″x 60″
Mick Reinman has been described as a painter's painter. His powerfully colored compositions build on the human figure and landscape in its most basic and architectonic form. He attended Chouinard Art Institute and has been a working artist all of his adult life using his drawing and painting skills to work in the entertainment industry on movies, advertising and commercials. He has shared his expertise by teaching at Otis Art Institute and California State University Channel Islands. Mick lives and works in Ojai, California where he is a member of the prestigious Ojai Studio Artists, who open their studios annually the second weekend in October.
Reinman's documentation took place in 2019 and was sponsored by Ojai Studio Artists and Jordan Laby. The AfterGLOW was hosted by Paula Spellman and catered by The Old Broad Catering Company.
The Focus On The Masters archive has extensive information about this artist.
.