Meet our Learning To See Outreach Teaching Artists!
All LTS Teaching Artists are professional, practicing artists with extensive educational experience.  This powerful combination enables us to impart a deeper understanding of the art making process on each student.  Learn more about Learning To See Outreach HERE.
Aimee French is a lifelong artist whose earliest memories are of being fascinated by shapes, edges and textures. She holds a Bachelor of Fine Arts in painting and drawing from The Ohio State University. Having explored and worked in a wide range of mediums, a painterly quality marks much of her work, even when using the hardest materials. It is process oriented, and symbolism is often used. After many years of painting on silk and with oil, her current mediums are assemblage, felted wool and encaustic.  Aimee joined Focus on the Masters as the Learning to See Outreach Education Director in January 2011. Her extensive arts education experience includes class instruction, program development and management serving populations from all ages, socioeconomic backgrounds and learning levels.  Her experience in museum education, certification as a Social/Emotional Arts Facilitator and 7 years working in humane education has given her a broad insight into the importance of how and what we learn manifests in a student's life. Her goal is to nurture inspiration and trust in one's unique creative voice.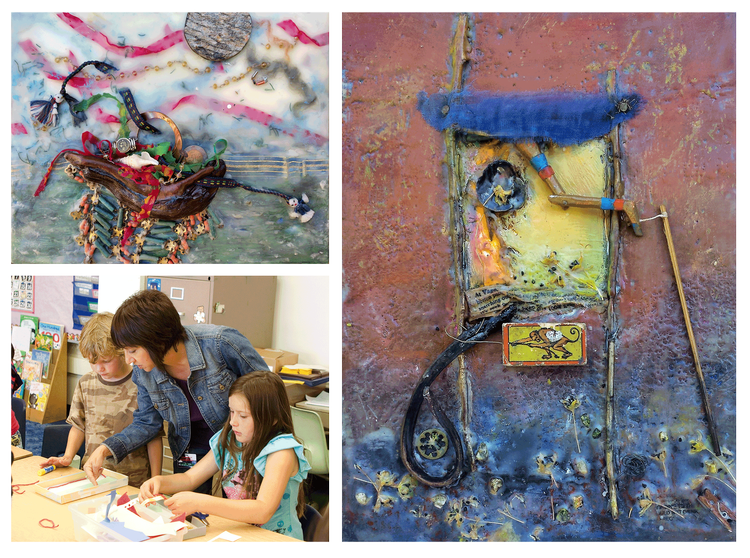 What led you to become an art teacher?
I wasn't planning on teaching at all. I got pulled into it little by little. The rewards have been priceless.
What inspires you to make art?
I just love the process of creating something new. Feeling the textures, watching the colors blend and change depending on what you put next to it, getting my hands dirty. Being surprised.
I was born and raised in Seoul, Korea. After moving to the US, a simple birthday, holiday, or phone call became a complex math equation. The influences of growing up in a dense urban environment across the sea while living almost perpetually in two opposite time zones are evident in my work.
My creative process is simple. I open my mind to all possibilities, step off the cliff, and work from moment to moment. This doesn't sound straightforward, and it is not. The concept of my work is the movement, intersection, and manipulation of time, and these are never straightforward. I am working with fabric and found objects. Since I cannot predict the future, I take it one moment and one thread at a time.
Learn more about Belle and her practice at bellesbrush.com.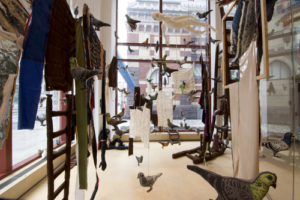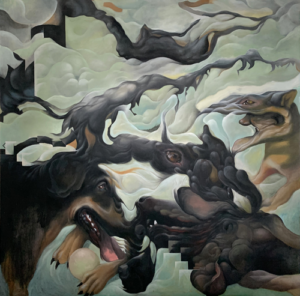 Maria Laura Hendrix is a Mexican-American interdisciplinary artist, currently living in Southern California. She earned her MFA from Otis College of Art and Design in 2020, and her BA in Psychology from Cal State Northridge. She looks at identity through the materiality of paint by creating portraits that resemble her cultural reality. Her use of deconstruction in the form through fragmentation is an important element in her work, where she interrogates identity through the use of multiple figures fragmented within a picture plane. She deconstructs the image to re-imagine a new form, one that makes sense to how she perceives the world around her. 
Learn more about Maria and her practice at marialaurahendrix.art.