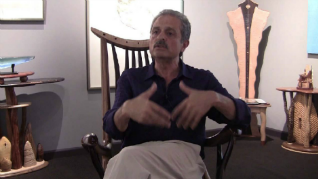 Gallerist
Khaled Al Awar, a 1970 emigrant from Lebanon, moved to Ojai in 1982 from Chicago with his wife, Sheryl. He established the Primavera Gallery which features international and local artists, both individually and in group shows. He focused on emerging and established artists working in a variety of mediums including, paint, glass, wood and ceramics. Says Al Awar: "There is an amazing transformation that happens to people when they walk in and see the art." In addition to the gallery, Al Awar owned the Ojai Playhouse Theater, long a cultural landmark in Ojai, that screened first run films and was the home of the Ojai Film Society.  (Following extensive water damage in 2016, the theater was closed and, as of April 2020, had not reopened.). Khaled's dedication to the arts and devotion to community has earned him a Lifetime Achievement Award in the Arts from the City of Ojai. In his 2017 interview,  Donna Granata and Khaled Al Awar discussed the importance of galleries in furthering an artist's career.
Al Awar's documentation was in 2017 and was sponsored by Paula Spellman. The AfterGLOW was hosted by Paula Spellman.
The Focus On The Masters archive has extensive information about this artist.