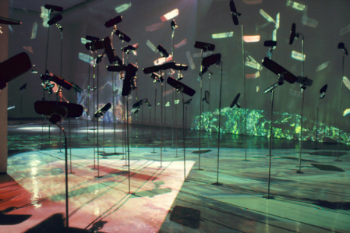 Technology/Installation Artist
Regrets by Jane Mulfinger
Using site-specific installations, performance and sculpture, Jane Mulfinger offers commentary on the human condition. Of her work Jane says: I act as archivist and archaeologist, an analyst of object-hood, transforming clothing, tools, household goods, texts …into closely observed installations, public interactions and discrete objects. She calls herself an interloper whose work at times may actually hinder our understanding but compels us to search further for truth. Jane graduated from Stanford University with a BA in Studio Art with Honors, and earned her MA in Sculpture with Distinction, from the Royal College of Art in London. She is a Professor of Spatial Studies/Sculpture at UCSB. Her work has been critically acclaimed and widely exhibited both in the United States and Europe. In 2000, Wish You Were Here, (Perimeter Exam) was installed in the former women's jail located on the top floor of Ventura's City Hall.
Mulfinger's documentation was sponsored by James & Mary Galbraith.
FOTM archive has extensive information on this artist.