Focus on the Masters presents John Nava
Free Lecture and Benefit Book Signing by John Nava
Sponsored by Paula Spellman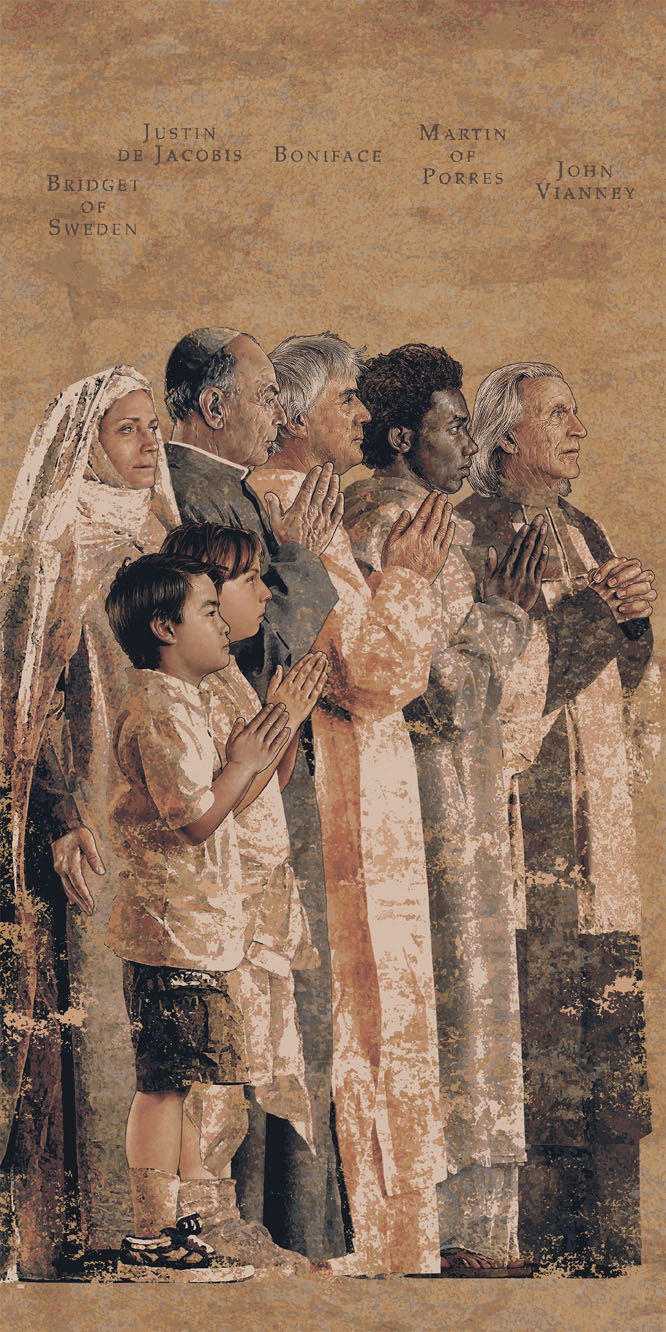 John Nava – North Wall, Los Angeles Catherdral, tapestry
December 10, 2017 · 1:30 to 3:30 p.m.
Oxnard's Levity Live · 591 Collection Blvd.
SACRED MATERIAL: The Art of the Tapestries of the
Cathedral of Our Lady of the Angels
John Nava, renowned painter and creator of the highly-praised tapestries at the Cathedral of our Lady of the Angels in Los Angeles, will discuss his newly-published book, SACRED MATERIAL: The Art of the Tapestries of the Cathedral of Our Lady of the Angels, on December 10 from 1:30 to 3:30 p.m. at Levity Live at the Collection in Oxnard. Nava's lecture will precede a book signing and sale, with a generous portion of the proceeds to benefit Focus on the Masters acclaimed arts archive and educational programming. This is a free event.
SACRED MATERIAL recounts the ground-breaking techniques employed in creating the three monumental commissions, The Communion of Saints, The Baptism of the Lord and The New Jerusalem for the Cathedral. The commission, combined with Nava's keen knowledge of art history, masterful painting techniques and state-of-the-art pioneering technology, secured his place in the first chapter of the history of 21st Century American Art. Many in our community are thrilled to recognize friends and neighbors in The Communion of Saints tapestries. Known as an excellent speaker, Nava always delights and educates his audiences. This is a rare opportunity to hear one of the most important living artists of our time.
Focus on the Masters was fortunate to start its documentation of John in 1999, prior to the completion of his famed tapestry commission. Documentation in the FOTM Archive records the rise of this indisputably historic artist.
A generous portion of the proceeds from the sale of SACRED MATERIAL will benefit Focus on the Masters wide-ranging arts education programming. Purchasing your copy of SACRED MATERIAL at this free event is a marvelous opportunity to add to your own arts library and to continue the legacy of Focus on the Masters.
RSVP required by calling 805.653.2501 or on line at www.FocusOnTheMasters.com. Your copy of SACRED MATERIAL can be reserved when you RSVP. $75 payment for the book will be due at the event.
Individuals who reserve their book before Wednesday, December 6 will be entered to win a portrait of John Nava by FOTM Founder Donna Granata.