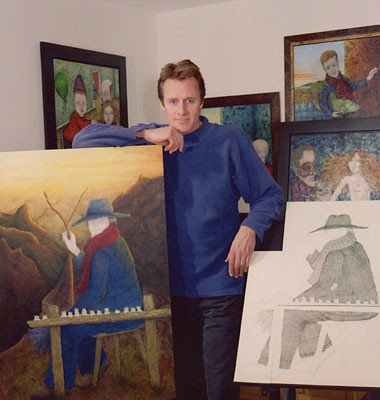 Painter
Portrait © Donna Granata 2000
Duncan Regehr is a prolific figurative painter whose enormous body of work is profoundly and distinctly poetic. His recent work revolves around images suggested to the artist through his relationships, his dreams and his many interests. Reaching into the depths of psychology and the unconscious, Regehr's paintings convey his penetrating observations of humanity and the evolution of his social consciousness.
"The magic of seeing and the seeing of magic are one in the creative experience. Expression of vision feeds, transforms and ultimately becomes reality – magic realized. My art is more than a chronicle of what has already manifested," said the artist. "It mirrors the intellect and the emotion, and seeks to reflect a view of the universal – the unrealized. The infinite vision of the mind's eye holds the key to truth. Whether using paint, film or words, it is with that sight that I unveil, interpret, and with all humility and arrogance, aspire to express truth."
Duncan Regehr is a multi-talented individual who has been recognized for his work in several mediums. An accomplished painter, he has had solo exhibitions in galleries in the United States, Canada and Europe. His writing has included numerous journals and articles. His book "Dragon's Eye," a fascinating automonograph, includes many examples of his insightful poetry and 169 color illustrations of his art. His varied roles on television, film, radio and in the theater have been memorable, captivating audiences with his wonderful characterizations.
Duncan Regehr's documentation took place in 2000. The FOTM Archive contains extensive information about this artist.