Dennis Oppenheim
(1938 -2011)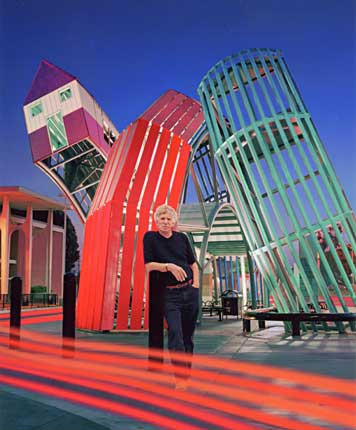 Conceptual Artist
Portrait © Donna Granata 2002
Dennis Oppenheim created Bus-Home, the large functional sculpture graces the Bus Transfer Center at Ventura's Pacific View Mall.
Stanford educated, Oppenheim was a world famous pioneering figure within contemporary art history, leading in the fields of performance, video, film, sculpture, drawing and public art. "Bus Home deals with the metamorphosis of one image into another. In a kind of animated freeze frame the house slowly becomes a bus. In this three-dimensional pictorial equivalent of a journey, the journey consists of a swirling loop, a spiral. This work should be magical and hard to contemplate, as is often the case when one thing turns into another," explained Oppenheim. "I hope this work would also bring calm, especially to young travelers, by showing a flow, and connection between where you came from and where you are going."
Dennis Oppenheim's documentation took place in 2002. The FOTM Archive contains extensive information about this artist.