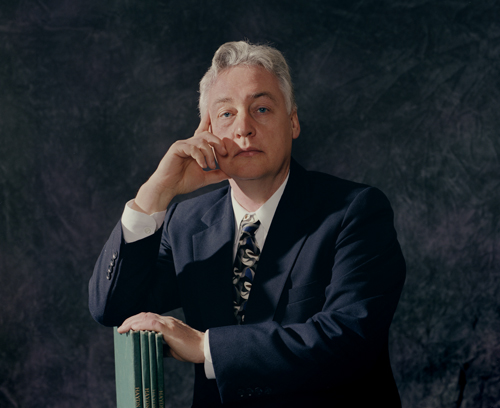 Conductor/Musician
Portrait © Donna Granata 1998
Recognized as a gifted musician and respected music educator in Ventura County, Burns Taft was the music director of the Master Chorale of Ventura for over 30 years. His academic credentials include from Yankton College in his home state of South Dakota, the Yale School of Music, the University of Colorado and the University of Southern California, where he received his Doctor of Musical Arts.
Taft's artistic endeavors have been trend setting. Shortly after assuming the artistic direction of the Master Chorale and Opera Association in 1981, Taft brought staged operas to the community – Die Fledermaus, Hansel and Gretel, La Boheme, Electra and The Marriage of Figaro – offering choral singers musical challenges as they shared the stage with professionals from the opera world.
Singing under his inspired direction, the Master Chorale has explored challenging repertoire from the Renaissance to the Avant Garde and has performed in the most beautiful, historic, and acoustically rich venues throughout the county.
Due to Taft's dedication to recognizing the professionalism of trained choral singers as well as soloists and instrumentalists, the Ventura County Master Chorale has offered performance opportunities to finalists from the Metropolitan Opera's Western Regional Competition. Taft has also created a smaller, more elite performing ensemble, the MasterSingers.
When he was chairman of the Performing Arts Department at Ventura College, he instituted an innovative private music instruction program at a community college – a rarity in California.
In 1991, Taft established the Chamber Orchestra of Ventura County, drawing together the finest professional instrumentalists from southern California's most respected orchestras to form a new intimate ensemble for this area. The Chamber Orchestra of Ventura County morphed into the Ventura Music Festival under his leadership and vision. Currently, Taft is the Founding Music Director of the Pacific Shores Philharmonic Orchestra and Pacific Shores Chorale.
Taft was born in Rapid City, South Dakota, where his father and mother moved during the great depression. His professional interests include both choral and orchestral conducting, teaching – from history to music theory and composition – along with performing. He has conducted as well as performed the piano solo in Beethoven's Choral Fantasy many times.
A man of diverse interests with a keen sense of humor, he is an avid horse fancier, especially Peruvian Pasos, loves the outdoors and dreams of starting a music festival at his mountain property in the Black Hills of South Dakota when he retires.
Dr. Burns Taft's documentation took place in 2001. The FOTM Archive contains extensive information about this artist.