Arnold Newman
(1918 – 2006)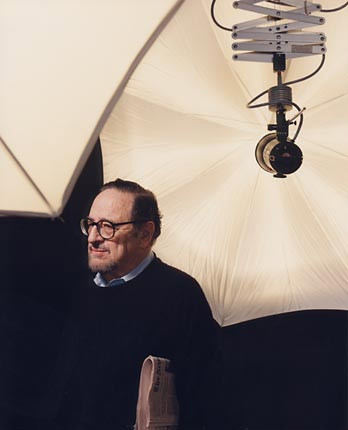 Photographer
Portrait © Donna Granata 1996
In a career that spanned almost 58 years, Arnold Newman was a significant contributor to the history of photography. His photographs are part of permanent collections at the most respected museums and galleries in the world. Often referred to as the father of the environmental portrait, he succeeded in photographing many of the major icons of the twentieth century.
His work is distinguished by a careful use of background which succeeds, as much as possible, in helping to create an entire narrative within a single still frame. Listing just a few of his portraits, they include Igor Stravinsky, Pablo Picasso, Andy Warhol, Marilyn Monroe, and German industrialist Alfred Krupp. In addition to contributing to many publications, including LIFE, Look, Holiday, and Harper's Bazaar, Newman authored numerous well respected books including Bravo Stravinsky, One Mind's Eye, Arnold Newman: Five Decades and lastly, Arnold Newman's Americans.
Born in New York City in 1918, Newman's first love was painting. He studied formally at the University of Miami from 1936-38 but because of the depression era, he was forced to abandon his classes to find work. In 1938 he began his career as a portraitist by starting as an apprentice in the portrait studio of a friend of the Newman family.
Newman's love of the arts never escaped him. His sense of design and composition was instrumental in his success. He felt that a sense of history is critical to the success of an artist in any medium. He often referred to the effect that great artists had on his own work. Newman reiterated this in a 1996 interview in which he stated that he was particularly influenced by Flemish painters. He also mentioned that the work of the Cubists, including Picasso, influenced the way he structures a photograph. Additionally, Newman had the opportunity of watching Mondrian work, and he particularly admired Mondrian's "…exactness, and his tremendous attention to balance", (PhotoOp Feb.96).
"Arnold Newman's life's work not only had a tremendous influence on my own career as a photographer, but has also helped to shape the goals of the Focus on the Masters project," said Donna Granata, founder of Focus on the Masters.
Arnold Newman's documentation took place in 1996. The FOTM Archive contains extensive information about this artist.