Alberta Fins
(1931 – 2009)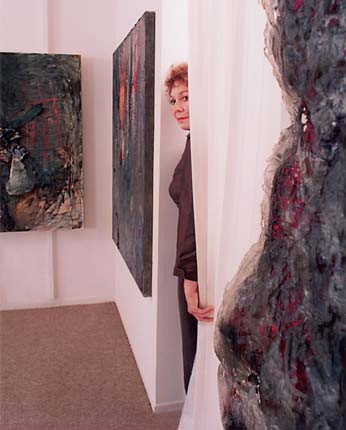 Expressionist
Portrait © Donna Granata 2002
Alberta's paintings and prints commented upon the human condition. She was an artist for whom the process of making art was more than a means to an end. The final artwork is, by her testimony, only partly an artifact; it is also proof of the mental and physical manipulations that have gone into its making. Her mixed media work blurs the boundary between abstract and representational art as much as she blends paint with collage and sculptural elements. The physicality in making the work often included toxic chemical solutions that, when combined, create effects that often disrupt the surface integrity of her canvas adding to the narrative. Drawing upon her experiences, each work was uniquely personal often including references to religion and domestic life. A deeply sensitive person, she would share her emotions through her art; a means by which she could freely express herself. In a 1991 LA Times article by Josef Woodard, Alberta commented, "I think art is what keeps me normal. I really have a sense of humor. I'm an up person and I do a lot of laughing. I think I have that side of me because I'm able to express the other side in the studio."
Alberta's formal training began when she moved from New Jersey to California where she studied at Pasadena City College, Valley College and UCLA. She was a member of the Los Angeles Printmaking Society and the Ojai Studio Artists.
Alberta Fins' work has been exhibited nationally and internationally, including the Taipei Museum in China, the Ontario Museum in Canada and the Clary Miner Gallery in New York City. Locally her work has been displayed at the Carnegie Art Museum in Oxnard, the Museum of Ventura County and the Ojai Valley Museum. Her work is also featured in numerous prestigious collections including the City of Ventura Municipal Art Collection and the Carnegie Art Museum Oxnard.
Alberta Fins' documentation took place in 2001. The FOTM Archive contains extensive information about this artist.